Cline Says Defense Working on Basics at Camp
KSCB News - May 31, 2012 3:59 pm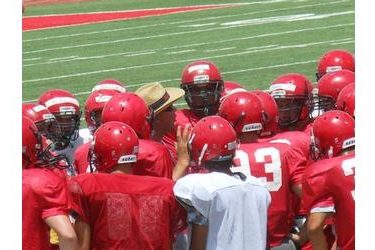 Caleb Cline is a hard working man. The LHS head track and field coach and football defensive coordinator finished off the track season this weekend in Wichita only to return to work with team camp this week at the Cornelsen Sports Complex. He says he is pleased Liberal's improvement in track moving up to fourth from fifth in the boys meet and 11th from 21st in the girls meet. He says more depth is needed to compete for championships.
He begins his second season as D-coordinator after an injury riddled 2011 season. He says the Skins lose a lot of talent from last year's team (Justin McPhail, Gabe Beltran, Zach Stout, Michael Sena, Bram Abbott, and others) but this year's defense has a chance to be a good one.
The Redskins are participating in team camp this week. Click on the audio icon to hear coach Cline wrap up track and talk Angry Red football.