Click It or Ticket is Just Ahead
Joe Denoyer - May 14, 2019 11:34 am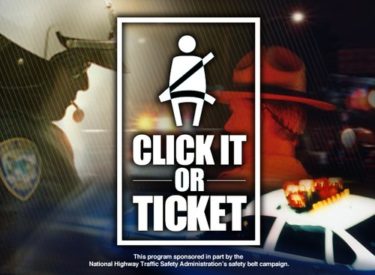 Beginning on Monday, May 20, and continuing through Sunday, June 2, travelers can expect increased police presence on city streets and roads in the county as the Liberal Police Department and the Seward County Sheriff's Office join 180 other law enforcement agencies in aggressively enforcing Kansas occupant restraint and other traffic laws as part of the 2019 Kansas Click It or Ticket campaign. This activity is supported by a grant from the Kansas Department of Transportation (KDOT). Enforcement will occur around the clock because seatbelt use diminishes after nightfall, meaning the likelihood of unbelted crash injuries and deaths soars during those hours.
Drivers will be confronted with strict enforcement of both the Kansas Safety Belt Use Act and the Kansas Child Passenger Safety Act. These statutes require that all vehicle occupants must be appropriately restrained. Law enforcement officers can stop vehicles and issue tickets when they observe occupants riding unrestrained or without proper restraint. Occupants, ages 14 and over, are cited individually. If a passenger under the age of 14 is observed to be unrestrained the driver will be cited.
Children under the age of four must be correctly secured in an approved child safety seat. Children, ages four through seven, must be securely belted into an approved booster seat unless taller than 4 feet 9 inches or heavier than 80 pounds, in which case, the booster may be removed, and the child belted in without it. Children, ages eight through 13, must be safety-belted. For answers to child safety restraint questions and the location of the nearest safety seat fitting station, or safety seat technician, contact the Kansas Traffic Safety Resource Office at 1-800-416-2522, or write [email protected].
The aim of Click It or Ticket is simple: to drastically reduce the number of preventable deaths and injuries that occur when unbelted drivers and passengers are involved in traffic crashes. About 345 persons are involved in 170 crashes each day in Kansas. According to KDOT, ninety-three percent of them are buckled in. As for those who are not strapped in, only 7% of them are likely to escape without injury. While seat belts may not always prevent serious or fatal injury, certainly no other piece of equipment within the vehicle provides more protection.