Clearwater Ends Liberal's Winning Streak at Six
Brock Kappelmann - July 14, 2019 10:05 am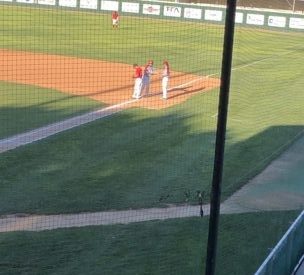 The Clearwater Outlaws came to Liberal and beat the Bee Jays 7-2 Saturday night at Brent Gould Field.  The Bee Jays were sloppy on defense with four errors and only had five hits on a night when they hit many line drive outs.  Clearwater snaps Liberal's six game winning streak.
Most of Clearwater's scoring came in the fourth.  The Outlaws scored five runs on four hits, two walks, and one error.  Four of the runs were earned.  They added an unearned run in the sixth.  Cayde Ward slammed a two RBI double to left center make it 6-2 in the sixth.  Clearwater scored another unearned run in the seventh.
Trevor Pruitt started the game and allowed six runs in six innings.  Four of the runs were earned.  He struck out nine and walked three.  Rafferty Brown pitched one inning allowing a run but it was unearned.  Riley Bost pitched two scoreless innings.
The Outlaws out hit the BJ's 6-5 but Clearwater did not commit any errors.
Liberal is 23-11 and 17-11 in the KCLB.  Clearwater is 15-20 and 12-18 in the KCLB.  The same two teams play Sunday night at 7 at Brent Gould Field.  It's National Beef Night.  Admission is free.  Host families are asked to be at the ballpark by 6:15 to be recognized at 6:30.  The Dugout Show airs at 6:45 on 1270 and kscbnews.net.