Clean Line Garners Support for Transmission Line
KSCB News - December 12, 2010 12:00 am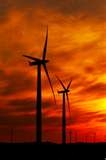 Several wind power companies are backing Plains & Eastern Clean Line ??s application to attain utility status in Oklahoma to build a $3.5 billion transmission line through the state.
The companies say a transmission line through Oklahoma will help unlock the state ??s vast wind energy potential and allow them to sell wind power to customers in the southeastern United States.
An Oklahoma Corporation Commission administrative law judge granted Guymon-based Novus Windpower ??s motion to intervene in Plains & Eastern ??s utility case in November.
Public hearings on Plains & Eastern ??s application for utility status are expected to begin sometime next year at the Corporation Commission.
Novus is supporting Clean Line because it will benefit wind power development in the state, said John Baum, manager for Novus.
The company has plans to build a 320-megawatt, $750 million wind farm near Guymon, the Associated Press reported in September.
??The Panhandle represents the richest wind resource in Oklahoma, but there ??s limited access to get power out to other regions because of limited load centers, ? Baum said. ??You need to export it out of this region. ?
Kansas-based transmission utility ITC Great Plains is also backing Plains & Eastern ??s utility application.
??There is a need for the development of transmission infrastructure not only in Oklahoma, but throughout much of the Southwest Power Pool footprint, ? said Gregory Ioanidis, vice president of business strategy for ITC Holdings Corp
Virginia-based wind power developer Generation Energy also supports the Plains & Eastern project.
Generation Energy has been developing a 1,000-megawatt wind farm in the Oklahoma Panhandle over the past three years. However, the project lacks interconnectedness and a long-term power contract, said Daniel McCrystal, Generation Energy president, in a letter to the Oklahoma Corporation Commission in support of Plains & Eastern.
??Although our project has demonstrably compelling economics, low environmental impact and strong local support, it nonetheless lacks the infrastructure to bring its rich Oklahoma natural resources to market, ? McCrystal wrote. ??While the Plains & Eastern Clean Line will primarily provide the infrastructure necessary to facilitate the export of wind energy to new markets, it will also provide opportunities to serve the local market as well. ?
The transmission line will help transport wind power to places that don ??t have Oklahoma ??s natural wind resources, said Mario Hurtado, executive vice president of development with Clean Line Energy Partners, the Houston-based company that wants to build the Plains & Eastern Clean Line project.
??Our project is kind of the next step for wind power and will address regional needs for clean energy from places like Oklahoma and Kansas to markets that have very limited access to wind power in the Southeast, ? Hurtado said.
The Plains & Eastern line would link wind farms in the Texas Panhandle, northwestern Oklahoma and southwestern Kansas to the area around Memphis, providing power to the Tennessee Valley Authority service area.
Construction on the twin-high-voltage line is expected to begin in 2013 or 2014 and cost $3.5 billion. The project will take about seven years to complete.
The majority of the 750-mile Plains & Eastern Clean Line project will be built in Oklahoma, roughly 59 percent, but a set route has yet to be determined. The line is most likely to begin in northwestern Oklahoma in Texas County. Clean Line is looking at the building a $250 million converter station in Texas County as part of the project.
Plains & Eastern faces opposition for its quest for utility status from the Oklahoma Independent Petroleum Association and OG&E, as well as mineral rights owners and landowners. The groups object to giving the company utility status because it would give it the power to condemn land for the transmission line project, among other reasons.