City to Open New Commission Chambers
Joe Denoyer - August 15, 2023 4:59 pm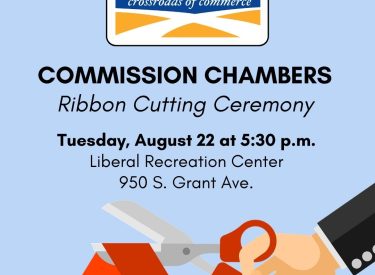 provided by City of Liberal
Liberal's City Commissioners will soon move to their new commission chambers located inside the Liberal Recreation Department at 950 S. Grant. The first meeting to be held in the new location will be the regularly scheduled City Commission meeting on Tuesday, August 22.
Renovation of the public space began in 2021. The new chamber room incorporates equipment to improve the quality of meeting live stream viewing for the public, including expanded media platform access options made possible by fiber internet connectivity. The space also includes equipment to conduct remote video conferencing as needed during commission meetings.
"The commission chambers are a place for our residents to engage with City Commissioners and participate in their local government," City Manager Rusty Varnado said, "I appreciate the care and attention that many employees have put into making this space a special place for our community to connect with us."
A Liberal Chamber of Commerce ribbon cutting ceremony is scheduled for the beginning of the City Commission meeting at 5:30 p.m. on Tuesday, August 22 at the new commission chambers inside the Liberal Recreation Center. The public is welcome to attend.