City Accepting Online Utility Payments
Joe Denoyer - October 23, 2023 10:00 am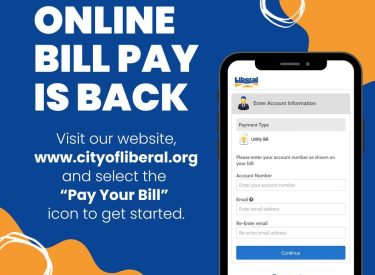 provided by City of Liberal
The City of Liberal has completed a rebuild and migration to a new online payment portal. Individuals may once again submit utility bill payments for water, sewer, and standard trash collection services online using a credit card, debit card, or ACH payment.
To make a payment, users can visit the city's website at www.cityofliberal.org and select the "Pay Your Bill" icon. Users will be taken to a payment portal hosted by Paymentus. Utility customers can make a one-time payment using basic account information.
This new platform also allows users to register an account to have access to additional features, such as paperless billing set-up, managing eBill notifications, managing monthly AutoPay options, and more. Customers who created an account under our former online payment portal will need to register for an account in our new portal to have access to these features. The format of the City of Liberal's mailed paper bills will not change.
Paymentus charges a fee of $3.14 for each credit or debit card payment transaction made using this payment portal. The fee covers payment handling and processing charges and the City of Liberal does not receive any part of this service fee.
Customers with a past due balance or disconnected water service must make their payment for reactivation of services at the utility billing service counter inside City Hall.
Customers may also make payments in person at our utility billing service counter inside City Hall, 324 N. Kansas Ave, or submit a check or money order using the night drop box on the west side of City Hall.