Ciochetto Takes Coaching Job in Michigan
Brock Kappelmann - April 18, 2023 7:25 am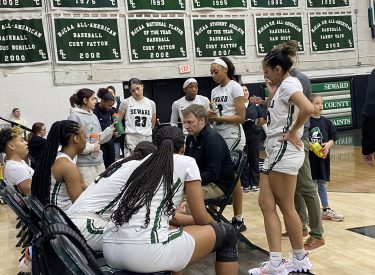 Bay College Release
Former Seward women's basketball coach Todd Ciochetto has landed a job at Bay College in Escanaba, Michigan.  Here is the release from Bay College.
ESCANABA, MI – Bay College Athletic Director Matt Johnson has announced the hiring of Todd Ciochetto as the Head Women's Basketball Coach.
"We are thrilled to welcome Todd to the Bay Norse Family," said Johnson.  "Todd will transform Norse Basketball, and   His enthusiasm and energy will make Norse Athletics better and help elevate the entire college.  His ability to build relationships with our student-athletes and recruits will be very impactful, and we are so excited to watch this program grow under Todd's leadership. He has proven to be one of the best coaches in junior college basketball, he is respected at the national level, and he is incredibly well connected, which will benefit or incoming recruits and outgoing players.  Today is a great day for the Norse Nation!"
Coach Ciochetto brings a wealth of experience and success to Bay College, boasting an overall record of 207-77 as a head coach at the college ranks.  Most recently he was at Seward County Community College in Kansas, an NJCAA Division 1 school in Kansas.  In three years at the helm of the Lady Saints his teams amassed a 54-32 record.
Prior to his time there, Ciochetto had a long stint at North Iowa Area Community College (NIACC).  He started there in 2011 as the Assistant Women's Basketball Coach.  In 2014 the Trojans were an impressive 34-3 and finished in third place at the NJCAA Division 2 National Championship Tournament.
Coach Chiochetto took over as the reigns of the program at NIACC for the 2014-2015 season.  His teams put up an outstanding record of 153-46 from 2014 to 2020.  During that time he was named the NJCAA District F Coach of the Year three times and ICCAC Coach of the Year three times.  During the 2019-2020 season the Trojans were 32-1 overall and won the NJCAA Region XI Championship.  Unfortunately, the season ended there for NIACC as the pandemic eliminated the rest of the season.  It was enough to earn Coach Ciochetto the NJCAA Division 2 Coach of the Year and World Exposure NJCAA Division 2 Coach of the Year in 2020.
Coincidentally Todd coached against Bay College in their second-ever contest.  The Norse got to see firsthand the exciting, fast-paced style of basketball Coach Ciochetto brings to programs.  In two games against the Norse (2017 and 2018), the Trojans outscored Bay 199-135.
Ciochetto has stressed academic success during his time at the collegiate level, and actually served as an Academic Success Coach while at North Iowa.  He has also prided himself on helping his players move on to the next level if they so choose, and boasts 58 players that moved on to four-year destinations on scholarship in his career.  Todd also served as the Interim Sports Information Director while he was an assistant at NIACC.
Coach Ciochetto has also been active in the AAU circuit.  From 2011 to 2020 he was the Director and a Coach of the North Iowa Fire AAU Program.  He was also the Owner and Coach of the Basketball Academy of Minnesota (BAM!) from 2006-2009.
Todd also spent the 2010-2011 season as the Head Boy's Basketball Coach at Nicollet Public Schools, was an assistant coach with Scottsdale Community College Men's Basketball and 2005-2006, and was an assistant coach with Football and Girl's Basketball at North High School in Oakdale, MN.
"I want to thank Matt Johnson for this opportunity," said Ciochetto.  "I have known Matt for a long time and I believe in his vision to build Bay College into an elite athletic department. I felt at home on my visit and I cannot wait to get there and build a program that the community will be proud of on and off the court."
Ciochetto is a graduate of the University of Wisconsin – River Falls where he got a degree in English Literature.
What others are saying about Coach Ciochetto…
"Bay College is getting a great individual in Coach Ciochetto.  Todd is a tireless recruiter who is going to coach the girls up, but also knows when to dial it down.  Relationships are key in today's college basketball world and Todd is as good as it comes in building relationships with his recruits, players, and families.  The Norse are in great hands."