Ciochetto Steps Down as Seward Coach
Brock Kappelmann - March 8, 2023 12:51 pm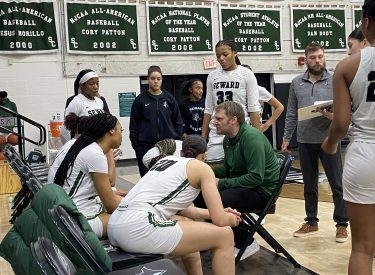 After three seasons, coach Todd Ciochetto has stepped down at Seward Lady Saint head coach.  The school's athletic department is preparing to search for a new head coach.  Ciochetto coached the Lady Saints Saturday in a 60-59 overtime loss at home to Garden City wrapping up the season.
Seward finished 14-17 this season and dropped their last five games.  SCCC went 12-12 and placed sixth in the Jayhawk. It was Seward's first losing season since 1991-92.  It was the most losses by a Seward women's team since going 7-23 in 1991.    Ciochetto finished 53-33 in three seasons at Seward.  In 2021-22 the Lady Saints were 22-10 and went 17-7 in the Jayhawk.  They finished in the semifinals of the Region 6 Tournament.  In the Covid season of 2020-2021, Seward was 17-6 and advanced to the quarterfinals of the Region 6 Tournament.  Seward was 2-3 in the Region 6 Tournament the past three years.
During Ciochetto's time at Seward, the Lady Saints had three of the school's top six seasons in made three pointers.  The 2022 Lady Saints made 318 3's which is third in SCCC history.  This year's Lady Saints made 278 three pointers which was fourth all time.  The 2021 SCCC team made the sixth most at 246.
Ciochetto coached Halima Salat who finished third at SCCC in career made three pointers at 183.  Salat was fourth in made 3's in a single season at Seward with 104 and 8th  with 79 made 3's.  Zhane Thompson made 79 three pointers in 2021-22.  Thompson is 8th all time in made three's with 120.  Sierra Morrow had 80 blocks in 2020-2021 which is 10th all time in a single season.
Before coaching at Seward, Ciochetto was the head coach at North Iowa Area CC and went 153-46.  His overall record is 206-79.  He was NJCAA Division 2 Coach of the Year in 2020 when NIACC went 32-1.  His teams won three region titles at NIACC.
Next year's Seward head coach will be the fourth head coach in seven years.  That's after Jim Littell coached Seward from 1991-2005 going 418-61 and Toby Wynn coached the Lady Saints from 2006-2018 going 349-84.  Ciochetto replaced Austin Mefford who was head coach two years going 55-11.