Cimarron Valley Railroad Heads into the Future with a Nod Towards the Past
Joe Denoyer - May 17, 2019 4:54 pm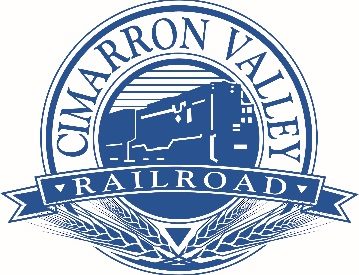 Satanta, KS – Cimarron Valley Railroad(CVR) has been awarded a grant by Kansas Department of Transportation to assist in replacing the train line's 13 aging locomotives with a more modern and efficient fleet of seven engines. All 4000 HP GE Dash 8 models have been certified by the original manufacturer, General Electric Transportation (a WABTEC Company), and have undergone extensive 100-point checks.
This upgrade will yield major benefits to CVR's rural customer base through lower fuel costs, enhanced service and better reliability. An added benefit is the positive impact the new equipment will have on surrounding neighbors from lowered emissions and improved safety through the reduced risk of wayside fires. In addition to the substantial lowering of fuel consumption and greenhouse gas emissions, the newer locomotives also provide a significant increase in hauling capacity, resulting in a reduction in locomotive fleet size.
Cimarron Valley is painting the units in a scheme that reflects the Santa Fe heritage of the rail lines. The Atchison, Topeka, and Santa Fe Railroad (ATSF), now part of BNSF Railway, was a major influence in the development of Kansas, including the rail lines now comprising CVR. As such, Cimarron Valley has chosen a paint scheme paying homage to the ATSF and the rail pioneers that blazed the trail of commerce 100 years ago in southwest Kansas.
The Kansas State Rail Service Improvement Fund (SRSIF) was modified several years ago to facilitate upgrading railroad cars and locomotives in addition to rehabilitating railroad tracks and its components (bridges, yards, shops, buildings, and sidings) on short lines in Kansas. CVR's application was the first to be received by KDOT for rolling stock. The SRSIF is one component of the state's Comprehensive Transportation Program which was originally signed into law on May 10, 1999. The total project was $1.5 million, funded with a 30% KDOT grant, a 40% KDOT low-interest loan, and a 30% CVR match.
Since its inception, Cimarron Valley Railroad has operated with a mixed fleet of older diesel-electric locomotives that had been discarded by their original Class 1 owners, in many cases due to the high cost of operation. CVR's oldest locomotives date back to the early 1960s. The overall fleet age averages 45 years, with an out-of-service rate of 46%. Running on outdated technology, these engines have considerably exceeded their life expectancy, resulting in higher fuel and oil consumption per ton mile as compared to modern units. Replacement units were built in the late 1980s to early 1990s, resulting in an improvement of 25 years in average age and technological advancement.
On behalf of Cimarron Valley Railroad, the State of Kansas received letters of support from their many freight customers and community stakeholders. The addition of the locomotives to the CVR fleet is definitely a win for the railroad, its customers, the rural communities along the line and the State of Kansas.