Cimarron National Grasslands Fishing Derby This Weekend
KSCB News - June 2, 2015 8:25 am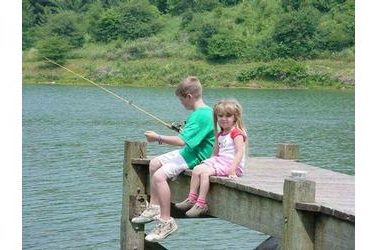 The 25th Annual Santa Fe Trail Fishing Derby on the Cimarron National Grassland north of Elkhart, KS, will be held on Saturday, June 6th.
The fishing derby will be held at the Cimarron Recreation Area on Saturday, June 6th and is a free event for kid's ages from 0-16 and adults age 55 and over. The event is held on Kansas Free Fishing Day, so fishing licenses are not required. Partnership sponsors include the Rolla Recreation Commission and Elkhart Recreation Commission. In addition, the Kansas Department of Wildlife, Parks and Tourism will provide rods and reels for those who want to participate but don't have fishing gear.
One of the ponds has a fishing dock accessible for persons with disabilities so that mobility-impaired anglers will find it easy to participate.
Lance Brown, District Ranger stated, "The Cimarron National Grassland is proud to be able to continue the tradition of the Derby, now in its 25th year. We encourage everyone to come out and enjoy their National Grassland, a free day of fishing, family time, and lunch."
Registration will begin at 7:00 am and fishing will begin at 8:00 am and end at 11:30 on Saturday. Fish weigh-in needs to be completed by 12:00.. A free hot dog lunch will be served starting at 11:30 at the Group Site with awards following. Prizes will be provided for the largest fish by weight in the various age categories (0-4, 5-8, 9-12, 13-16, and 55 and over) and overall largest fish.
All fishing ponds at the Cimarron Recreation Area will be closed starting Thursday through Saturday morning in preparation of the Fishing Derby. The ponds will be open for everyone starting Saturday at 11:30 am, after the conclusion of the Fishing Derby. Other locations on the Grassland that are open to fishing include the Wilburton, Mallard, and Point of Rocks Ponds.
Questions regarding the event can be directed to Cimarron National Grassland at 620-697-4621, Monday through Friday, 8:00 am to 5:00 pm.