Cimarron County Crash Injures Texas Man
Joe Denoyer - June 30, 2021 9:48 pm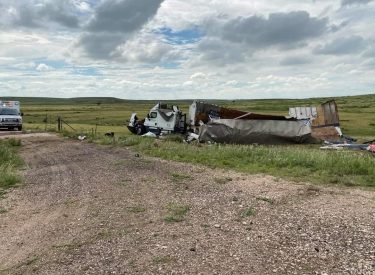 An injury accident occurred Wednesday afternoon at approximately 4:45pm, 18 miles north of Boise City, OK on US-287 at OK-34 in Cimarron, OK.
A 2016 Freightliner being driven by Claudio Chaves Vasques, age 56 of Dallas, TX was northbound on US-287, when the semi departed the roadway to the right,  traveling 453 ft into a ditch. The driver overcorrected, putting both cab and trailer into a broad slide through all 3 lanes. The truck then exited the roadway to the left striking a fence, the ditch, and a private driveway. The Freightliner rolled 1 complete time ejecting the driver out of the top of the cab.
Vasques was transported by Cimarron County EMS to Cimarron Memorial Hospital in Boise City, OK. He was later transported to University Medical Center in Lubbock, Tx. where he was admitted in stable condition with head, internal trunk, external trunk, and leg injuries.