Chip Seal in the City of Liberal to Begin
Joe Denoyer - July 13, 2021 10:49 am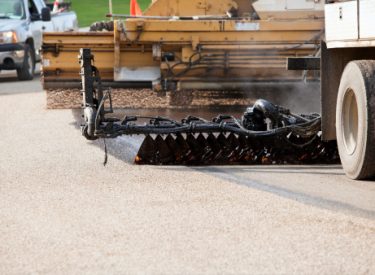 Chip sealing a city street. This image shows the entire chipseal process. The left side has already been reconditioned. On the right a black asphalt seal coat is being applied, behind small chipped rock is falling from an application machine. The rock will be pressed into the asphalt and excess swept up. Chipsealing is a less costly alternative to resurfacing an asphalt road.
Weather permitting, the City of Liberal will start the annual Chip Seal Program on July 19, 2021. The areas to be chip sealed are:
Kansas Avenue to Western Avenue
The railroad tracks to 2nd Street
2nd Street from Western to general Welch
7th Street from Western to Terminal Road
8th Street from Western to Stadium Road
Stadium Road from 15th Street to 7th Street
During this time, the City requests no parking in the street. The City estimates the project to take three weeks.
The city apologizes for any inconvenience and thanks you for your patience. If you should have any questions or need further assistance, please call 626-0135.