Chapman Shoots Liberal Past Guymon
KSCB News - December 7, 2011 7:11 am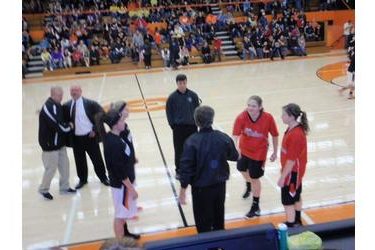 A packed Guymon High School gymnasium was rocking. The home team had the momentum playing in their fourth game of the season trying to break a seven game losing streak against a rival. The Liberal girls were wobbly down the stretch playing in their first game of the season. But Jai Chapman nailed three three pointers in the fourth quarter to help Liberal hold off Guymon 57-55 Tuesday night in Guymon.
Liberal dominated the first half leading 14-2 early and 20-9 after one quarter. Liberal led by as many as 13 (26-13). It was 30-23 LHS at halftime. The Lady Skins took a 42-34 lead into the fourth quarter when the gym started to rattle and roll with noise and the Lady Tigers (2-2) made their comeback. Guymon made it 42-41 with 6:41 to play before Chapman's barrage of three's.
With the game tied a 55, Justice Norah was fouled with about 40 second remaining. She missed the free throw but an Emily Bayouth rebound saved the possession. Norah was fouled again and made the free throws to make it 57-55. Guymon was fouled on a three pointer with five seconds left but missed all three free throws, including the last one purposely. Guymon got the rebound and missed two shots before making a final shot just after the buzzer and Liberal won their eighth straight against Guymon.
Justice Norah scored 19 and Jai Chapman scored 17. Guymon's Ashleyn Wadley led them with 18 and Denise Longoria scored 12.
Liberal hosts Lawton Friday at 6 p.m. and Bartlesville Saturday at 5 p.m. for the Conestoga/Community Bank Classic. The games air on Talkradio 1270.