Chapman and Brooks Bid Seward Farewell
KSCB News - May 1, 2014 7:21 am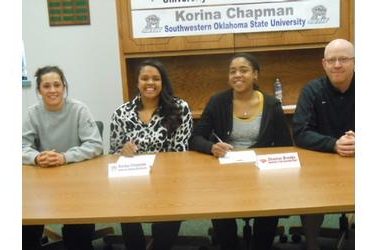 Two Seward Lady Saint post players are moving on. Korina Chapman and Shanise Brooks signed to four years schools Wednesday afternoon in the All American Room at SCCC/ATS. Brooks signs at division 1 University of the Incarnate Word in San Antonio, Texas while Chapman signs at division 2 Southwestern Oklahoma State.
Brooks signs with the UIW Cardinals who were 8-19 a year ago. The 6'1" sophomore led the 26-6 Lady Saints at 15 points and eight rebounds per game. She was first team all Jayhawk West and second team all Region 6. The Topeka Highland Park product shot 52 percent from the field. Brooks averaged nine points and eight rebounds per game as a freshman.
Chapman signs for Southwestern Oklahoma State in Weatherford. The Bulldogs were 19-11 this season. Chapman averaged 11 points and eight rebounds a game at Seward this season. She was second team all Jayhawk West. The Cibola High School product from Albuquerque, New Mexico went to Boston College before a knee injury sidelined her. She averaged three points and three rebounds for BC before the injury her freshman season.
Both credited coach Toby Wynn, coach Caitlin Demarest, the school, and the community during an emotional ceremony.