Chamber of Commerce Academic Banquet Awards 122 Scholarships
KSCB News - April 19, 2010 12:00 am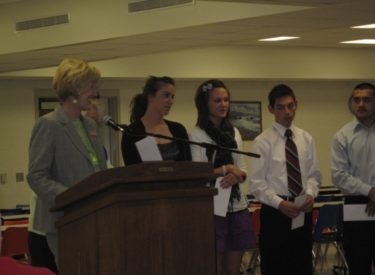 The Liberal Chamber of Commerce put on its annual academic banquet on Monday night at Liberal High School. The banquet included the giving away of 122 scholarships from a variety of local businesses and organizations.
Kelsi Moree led the way in scholarships as she was awarded nine. Valerie Rito and Blake Abbott each earned seven, while Emily Jackson received five. Jackson is also the class Valedictorian. Lydia Young won four and is the class Salutatorian. Ashley Ermann is #3 in the class followed by Kaisha Pittser and Darryl Lam to round out the top five.
Kelsey Parker was also a big winner as she received a scholarship from West Texas A&M that is worth over $16,000.
The banquet included a dinner before the presentations that was catered by Meisenheimers BBQ. Dr. Jack Jacob then emceed the event along with many representatives from different businesses and organizations who presented their scholarships to the seniors. Principal Keith Adams concluded the evening by saying how amazing it is how much the community of Liberal supports its students each year with all the scholarships given away.