Cerda and Foster All WAC in Dodge City
Brock Kappelmann - October 15, 2021 7:11 am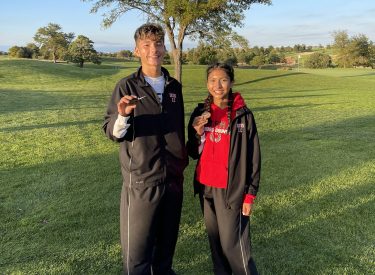 WAC
| | |
| --- | --- |
| Girls Team Place – 5th | Boys Team Place – 3rd |
| | | |
| --- | --- | --- |
| Place | Girls | Time |
| 32nd | Bentley Fitzgerald | |
| 27th | Isabela Guiterrez | |
| 4th | Daniela Cerda | 16:18 |
| | Angela Garcia | |
| 33rd | Ava Maxwell | |
| 25th | Hallie West | |
| 38th | Ariana Garcia | |
| | Girls JV | |
| | Gabriela Ramirez | |
| 19th | Hailey Contreras | |
| | Kimberly Ramirez | |
| | Boys JV | |
| 41st | Jackson Riley | |
| 37th | Lexton Batie | |
| 39th | Xavier Urius | |
| | Boys V | |
| 33rd | Brad Opat | |
| 25th | Daniel Amparan | |
| 18th | Elian Laguna | |
| 16th | Enrique morales | |
| 28th | Michael Byrd | |
| 5th | MJ Foster | 17:48 |
| 31st | Alex Koerner | |
Liberal ran at Dodge City for the WAC XC meet on Thursday. For the girls the team finished in 5th place with Daniela Cerda leading the way with a 4th place finish with a time of 16:18 and All WAC honor. Hallie west followed her finishing 25th and Isabella Gutierrez rounding up the top 3 at 27th. Girls had a strong showing in a very competitive girls race.
On the boys side MJ foster had a huge PR that lead the boys with a 5th place finish with a time of 17:48 to earn himself All WAC. Enrique Morales and Elian Laguna would round up the top 3 at 16th and 18th to help the boys finish 3rd as a team.
Regionals will be next Saturday at Wichita east.