Cauble's Duck Backstrokes to Victory
Joe Denoyer - September 24, 2022 2:56 pm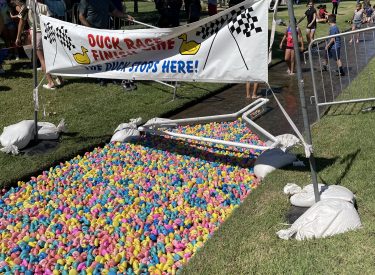 The Liberal Chamber of Commerce celebrated the 2022 Duck Festival in Light Park on Saturday. There was food, fun and festivities all day long culminating with the "Duck Race" at 2:00pm.
Activities throughout the day included the Seward County United Way Chili, Soup, Taco, and Dessert Cook Off, Ducky Downs, Trike Races, Bounce houses, Booths , and more.
Winners in the Duck Race, the top eight and the "Hard Luck Duck" were: Stew Cauble in 1st, winning $5000, Matt Graham 2nd, $2000, Jose Rios 3rd and $1000, , Kathy Pugh 4th,$500, Amy Wright, 5th $400, Ruben Perez 6th, $300, Tina Vargas 7th $200, and Marlene Aquino in 8th for $100. The Lucky Duck picked belonged to Amy Butler and was good for $500.
In the Chili, Soup, Taco and Dessert Competition Sponsored By the Seward County United Way, Crosspoint Church took 1st Place, Crossroads in 2nd, with LHeat in Third in the Chili competition.
On the Taco side, Sunflower Elementary took 1st and Meadowlark Elementary Came in 2nd
In the Dessert Competition, Blanca was 1st, Sunflower in 2nd, and Meadowlark in 3rd.
People's choice in the Chili competition went to Crosspoint Church.