Cass Closed at A's Slither Past BJ's
KSCB News - July 16, 2011 10:00 pm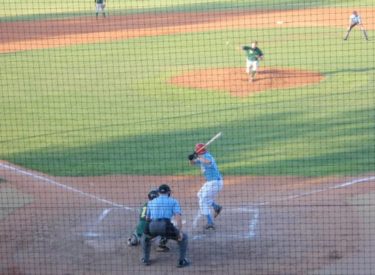 The most entertaining part of Saturday night's game may have been the snake in Dodge City's 6-1 win over Liberal. A bull snake made it's way on the field during Liberal's game against Dodge City Saturday night at Brent Gould Field. About eight BJ's tried to corral the snake unsuccessfully before a BJ fan walked out and took the snake to safety.
The snake may have had a better evening than the Liberal BJ's who starting pitcher left with an injured shoulder and only faced two batters. Dodge City's Cass Invgardson pitched seven innings allowing just four hits and no earned runs.
Liberal's Rusty Devitt (5-3) left the game early but Nick Youpel pitched seven strong innings with four strikeouts and one walk. Brent Harrison worked two scorelesThe most entertaining s innings.
Dodge City scored two in the first when both men Devitt walked scored on a Mitchell Corwin single. Michael Sterling homered and another run scored on a fielder's choice in the third to make it 4-0. Liberal scored an unearned run in the bottom of the third. Liberal misplayed a pop up to shallow left which was ruled a single because no one got a glove on it. The A's took advantage at Ivan Sigala blasted a two-run homer to make it 6-1. Dodge out-hit Liberal 8-5 and the BJ's had three errors.
Liberal loses three of four at home to Dodge City and loses for the fourth time in five games at home. They have dropped their seventh of their last 10 games.
Liberal is 25-13 overall and 15-12 in the Jayhawk while Dodge is 17-18 overall and 10-16 in the league. The same two teams meet at 7 p.m. Sunday night at 7 p.m. at Cavalier Field in Dodge City on Talkradio 1270 and kscbnews.net.