Carrillo Sets School Record in Win Over Great Bend
Brock Kappelmann - April 16, 2021 6:50 am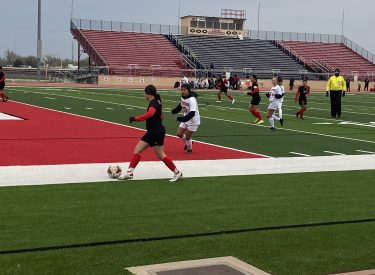 Ashley Carrillo needed one goal to tie the school record for goals in a season.  She did that and added three more for a four goal night as Liberal's girls soccer team beat Great Bend 9-1 on a cold Thursday night at the Gary Cornelsen Sports Complex.
Stephanie Ortuno scored first with an Ashley Carrillo assist.  Ortuno gave the Redskins a 2-0 lead.  Carime Neave scored Liberal's third goal.  Carrillo first of four goals gave the Lady Red a 4-0 lead with an assist from Lesslie Galindo on the throw in with one minute left in the half.  Carrillo scored first in the second half at the 31 minute mark.  Coraima Chavira found Carrillo for the sixth goal.  Jasmine Hernandez assisted Carrillo for a 7-0 lead with 17 minutes left.  Kenia Martinez scored a goal to make it 8-0 with 15 minutes left.  Coraima Chavira scored with 12 minutes left.
Liberal is 5-4 overall and 3-2 in the WAC.  They go to Hays on Thursday.