Carrillo is WAC Player of the Year
Brock Kappelmann - June 5, 2021 6:51 am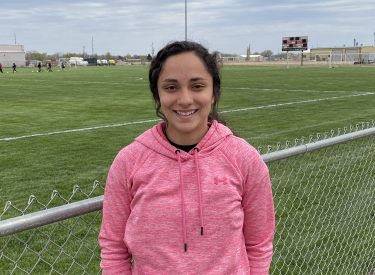 Brett Marshall
While the Hays Lady Indians dominated the team competition during the 2021 spring girls' soccer season, it was Liberal's Ashley Carrillo who made the biggest individual splash of the campaign.
The Liberal Lady Reds' forward/mid-fielder finally got to play her first varsity season of high school soccer and made the best of her initial year in the Western Athletic Conference.
She scored a school-record 27 goals (double the previous school mark) and added five assists and earned the league's coaches' vote for Player of the Year.
"I was actually surprised when my coach told me about the award," said Carrillo, a junior. "I wasn't suspecting anything like this even though we had a pretty good season."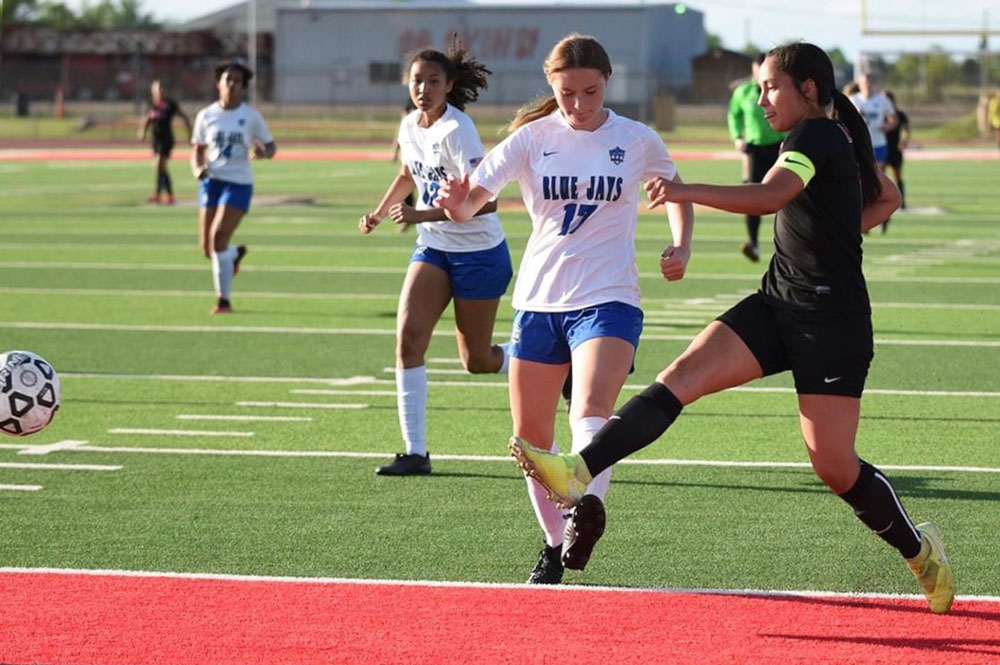 Carrillo had been eying the opportunity to compete in high school soccer for three years, having missed her freshman season with a torn ACL, and then having the 2020 season cancelled by the COVID-19 pandemic.
"I wasn't even sure that I was going to play this year," Carrillo said, candidly. "I debated whether I wanted to play or not. There was a part of me that was scared to go out because of the knee."
Carrillo, also an outstanding basketball player for the Lady Reds, said all the credit for her success rests with her teammates.
"I wouldn't have done what I did without such great teammates," she said in praise of them. "They looked for me out on the field and I was able to switch every now and then from the forward area to the mid-fielder depending on what kind of defense we would see."
Carrillo said one factor in her decision to play came from playing with many of her future high school teammates in a local summer competition.
"It was a lot of fun and I just knew I wanted to be around them and see how we could do," Carrillo said.
Carrillo said her biggest attribute on the pitch is her speed, and combined with outstanding footwork, has put in a lot of hours practicing to be as good as she could.
"I think the speed is what sets me apart," Carrillo said. "I'm pretty fast and I can usually beat the defenders on the wings. The other thing, though, is I feel like I've got pretty good ball control, which allows me to shoot outside the 18 (yard line). That makes it hard for the defender."
She usually plays on the left wing, allowing her to cut in really sharp and get past defenders. She acknowledged, however, that defenses got more creative as the season progressed and she had to find new avenues to score.
"I can shoot with both my right and left foot, and it's just something that has come naturally to me," Carrillo said. "I've worked more on my left foot this season because it allows me to get into more places to get around the defenders and get close into the goal."
A couple of goals especially were placed into her memory book this season – the first against Wichita East when she had a free kick from the 35-yard line, a low rifle-type shot that went past the defenders and into the second post.
"I was shocked how quickly the ball got to the net on that one," Carrillo said. "The other came at home when the goalkeeper punched the ball back and I got it on the 30-yard line and hit a curve ball into the first post with a high ball. I usually try for the second post, because I think I prefer power over placement."
Carrillo said she works on a lot of drills to improve her ball control, working more on the left foot than her right.
"That will make it harder to stop me because I've been man-marked a lot this season and I can float around on the field more this way," she said.
Playing both basketball and soccer has allowed Carrillo to use each sport as a complement to be better with the other. Much of it comes from footwork, she said.
"It just translates well from one sport to the other," Carrillo said. "A lot of lateral movement and the soccer conditioning really helps me with basketball. You're going fast for a long time out there."
With her senior year coming up in the fall and into next spring, Carrillo said she is unsure about her future for playing in college.
"I'm not quite sure what I want to do," she said. "I've played both sports since I was really young. I think I'll just see how each of the seasons go, see what interest there is from (college) coaches and then make a decision. If one doesn't work out, I've got something to fall back on."
Staying active by playing both sports year-round has kept Carrillo motivated and focused on the two team sports.
"I'm always doing something and I enjoy training for both," she said.
WAC notes: Carrillo's team finished the season 8-9-1 overall, losing in the regional finals of Class 6A and placing fourth in the WAC at 3-4-1. League champion Hays lost to Maize South in its 5A regional championship game and completed its season 14-3-0 after going unbeaten at 8-0 in the WAC. Dodge City (4-3-1 and runner-up) lost in the regional semifinals to finish 8-7-1 while Garden City (4-4, 9-8-0) also lost in the regional semis. Great Bend (0-8/1-16) lost its 5A regional semifinal, too.
Coach of the Year honors went to Hays High's Tyler Rueschhoff.
---
2021 All-WAC Girls Soccer Teams
First Team
| Player | School | Year |
| --- | --- | --- |
| Ashley Carrillo | Liberal | Jr. |
| Caroline Robben | Hays | Jr. |
| Maggie Robben | Hays | Sr. |
| Kenia Martinez | Liberal | Sr. |
| Valeria Gonzalez | Liberal | Jr. |
| Anahi Castillo | Garden City | Sr. |
| Joselin Pando | Great Bend | Jr. |
| Abighail Gallegos | Dodge City | Jr. |
| Katie Dinkel | Hays | So. |
| Madelyn Martin | Hays | Jr. |
| Alisia Solis | Dodge City | Sr. |
Player of the Year: Ashley Carrillo, Liberal
Coach of the Year: Tyler Rueschhoff, Hays
---
Second Team
| Player | School | Year |
| --- | --- | --- |
| Maia Lummus | Hays | Sr. |
| Allison Shubert | Hays | Sr. |
| Emily Alonso | Dodge City | So. |
| Mia Rayo | Dodge City | Jr. |
| America Gamez | Dodge City | So. |
| Stefany Ortuno | Liberal | Sr. |
| Wendy Zamudio | Garden City | Fr. |
| Andrea Aguilar | Garden City | Jr. |
| Marcayla Mcgregor | Garden City | Jr. |
| Arely Reyes | Great Bend | Jr. |
| Casandra Enriquez | Great Bend | Jr. |