Carol Mora Wins ITA Title
Brock Kappelmann - October 25, 2022 9:29 am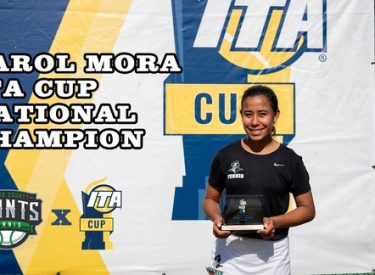 Kenny Hernandez
ROME, Ga. – Last week, Carol Mora won the women's tennis program's first ITA national championship as Mora was crowned the top JUCO singles player in the nation. Mora battled back after a set down to defeat the top seed Arina Gamretkaia from Hillsborough Community College 3-6, 6-3, 6-1 in the championship match on October 15th, 2022. With the victory, Mora makes school history with the first women's ITA championship and will enter the spring season as the No. 1 player in the nation.
Mora qualified for the ITA Cup after a regional championship victory in Arkansas City, Kansas, over Arina Babenko from Cowley College. In the Regional Tournament, Mora entered as the three seed, she would be the second seed in the national tournament.
On the first day of the ITA Cup, Mora faced off against Ana Julissa De Mata from Meridian Community College, and with rain in the morning, the match was held in the indoor facility. Mora took care of business with a straight-set sweep 6-2, 6-2.
In the tournament's semifinals, Mora faced off against the No. 4 seed Isabela Alvarez Mercante from St. Petersberg College. Last semester the Lady Saints finished third in the NJCAA National Championship behind St. Petersburg. Mora fell in the first set 2-6 on Friday morning in Rome. Mora picked up the momentum in the second set with longer rallies and won the second set 6-3. Mora picked up a late break over Alvarez in the third set and went on to win the third set 6-4.
With the semifinals victory, Mora is the second women's tennis player to ever advance to the finals of the ITA Cup in Seward County history.
On championship Saturday, Mora would face the top-seeded Gamretkaia from Hillsborough, and coming into the finals match, Gamretkaia only lost four games total. Hillborough took the first set 6-3 and looked comfortable in the open court, hitting winners to take the first set. Mora again battled back in the second set to win the set 6-3 and tied the match at a set a piece.
Mora came out of the gate in the third and decisive set to take a 3-0 lead over Gamretkaia. With the lead, Mora took advantage of the moment and the momentum to cruise to a 6-1 third-set victory.
With the victory over Hillsborough, Mora claimed the ITA JUCO women's singles championship, the first in school history.
Entering the 2023 spring season, Mora will enter as the No. 1 ranked singles player in JUCO. This is the first time in program history to have the Nationally ranked No. 1 singles player.