Cardinals Look for Next Step
KSCB News - August 15, 2011 4:32 pm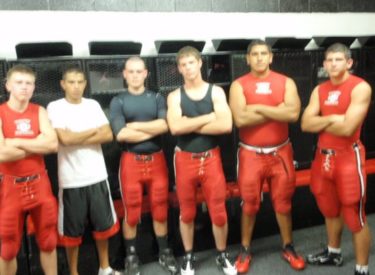 Turpin returned to the class A playoffs in 2010 going 6-5. This year the Cardinals are looking to add to their resume. Turpin has 24 players out for football including one of the top players in the state. Matt Mendoza returns to running back and linebacker after racking up 1,534 yards and 23 touchdowns as a junior. He is a pre-season first team all state player according to Vype's Oklahoma Football Preview Magazine. Mendoza is as modest as they come pointing out he couldn't put up those numbers without his teammates. Key seniors include lineman Jairo Vazquez, center/defensive end Taylor Olomon, right guard/defensive end John Barnes, wide receiver/defensive back Javier Alvarez, wide receiver/defensive back Corey Johnson, and quarterback/safety Bradley Kinser who passed for 545 yards last year and rushed for over 700 more. Junior lineman Luis Purico and junior tight end Trey Watson will be key Cardinals as well.
Sixth year head coach Mario Mendoza likes a line which returns three starters . The Cardinals were 6-5 last year after a 5-5 season in 2009 and a 7-4 season in 2008.
The Cardinal seniors and coach Mendoza will be featured during the Sportsguys Tuesday morning between 7:37 and 9 a.m. on Talkradio 1270 and kscbnews.net.
Schedule
Sept. 2- Beaver
Sept. 9- at Booker
Sept. 16- at Shamrock
Sept. 23- Hooker
Sept. 30- at Fairview
Oct. 7- Thomas
Oct. 14- Texhoma
Oct. 20- at Oklahoma Bible Academy (Edmond)
Oct. 28- Mooreland
Nov. 4- at Beaver