Cardinals Hope it's Turnaround Time in Turpin
KSCB News - August 10, 2012 1:41 pm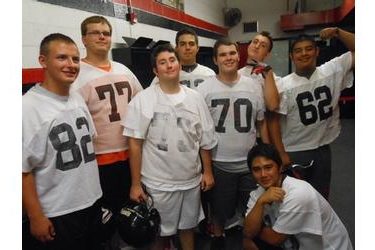 The Turpin Cardinals are calling in reinforcements. After enduring a 1-9 injury plagued season in 2011, the Cardinals are re-tooling for the 2012 campaign with six starters returning at the Class A school.
Last season the Cards finished the season with 16 proud football players with a boat load on the shelf due to injuries including pre-season all state running back and linebacker Matt Mendoza who is now playing football at Southwestern Oklahoma State. But this season there are 31 out for football including 14 freshmen and eight sophomores.
Key returning THS players include senior fb/lb Jake Jimenez; senior wr/olb Mathew Gross; sophomore rb/olb Will Enriquez; senior lineman Luis Pureco; senior lineman Thomas Kuns; senior lineman Alan Guteiez; senior tight end Trae Watson; sophomore qb Kyler Musgrave; and senior lineman Shawn Bridenstine. But Turpin fully expects to play some of their freshmen at the varsity level this morning.
The Cardinals have been on both sides of the spectrum recently under seventh year head coach Mario Mendoza. Although the Cardinals were 1-9 last year, they are just two years removed from a 6-5 playoff season. They were 5-5 in 2009 and 7-4 in 2008.
Schedule
August 31- at Elkhart
September 7- Booker
September 14- Shamrock
September 21- at Hooker
September 28- Fairview
October 5- at Okeene
October 12- at Texhoma
October 18- Oklahoma Bible Academy
October 26- at Mooreland
November 2- Beaver