Car Hydroplanes, Causes Accident in Texas County
Joe Denoyer - October 2, 2021 2:28 am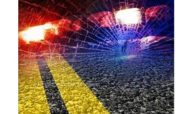 An injury accident occurred on Friday, October 1st, at approximately 5:52pm on US Highway 412 and mile 51 eastbound, approximately four and three-tenths of amile east of Hardesty, OK in Texas County.
A 2016 Ram 1500 pickup being driven by Frank Kent Magner,  69, of Lexington, OK, was eastbound on US412, when his vehicle began to hydro-planed and went off the north side of the highway, rolling 2 complete times, hitting a tree, before coming to rest on its wheels.
Magner was transported by Guymon EMS to Memorial Hospital of Texas County in Guymon.  He was admitted in critical condition with head,  arm and trunk internal injuries.
A passenger in the vehicle, Rose Rainmorningstar Magner,  19. was treated on scene for minor injuries.