Cannons Edge Bee Jays in Augusta
Brock Kappelmann - July 7, 2018 5:24 am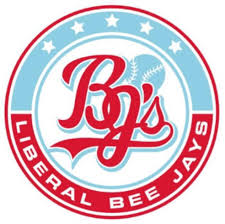 The Liberal Bee Jays dropped their opening game of their three game non league series in Augusta Friday afternoon.  The Kansas Cannons defeated Liberal 7-6 at Rodney Wheeler Stadium.  The hits were even at 9-9 and the BJ's had three errors while the Cannons had two errors.
Liberal scored one in the second to lead until the Cannons scored one in the fourth.  The Bee Jays re-captured the lead at 3-1 in the fifth before the Cannons scored two to tie it in the bottom of the fifth.  Liberal plated two in the top of the sixth to lead 5-3 before the Cannons scored two in the bottom of the inning to tie it 5-5.  The Cannons scored two more in the bottom of the seventh to lead 7-5.  The Bee Jays loaded the bases with no outs in the ninth but only scored one run.
Jonathan Tapia and Peyton Johnson were 2-4.  Johnson, Chase Hacker, and Dane Simon all doubled.  Jake Hamilton pitched four innings without allowing an earned run.  Dylan Paul pitched one inning allowing two runs but they were unearned.  Tyler Giovanoni pitched two innings and allowed four runs with  three being earned.  Channy Ortiz pitched a scoreless inning.
Liberal falls to 15-12 overall.  They play the  Cannons again on Saturday at 3 p.m. in Augusta.