Butler Sweeps Seward Softball
Brock Kappelmann - March 1, 2023 6:44 am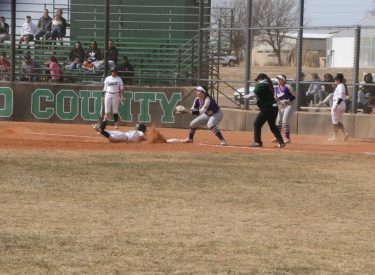 Kenny Hernandez
LIBERAL, Kan. – Seward County Community College hosted No. 7 Butler Community College on Saturday's doubleheader. The Lady Saints fell in their conference opener with a 7-1 final in game one and a 13-5 final in game two. Seward County is now 2-12 in the year and 0-2 in the KJCCC. The Lady Saints will continue conference play at Barton Community College on Wednesday starting at 1 p.m. CT.
Game 1
In the top of the second inning, the Grizzlies got on the board with three runs. Butler added three more runs in the top of the third to lead 6-0 over Seward County. In the bottom of the third inning, the Lady Saints got on the board with a sacrifice fly by Shyanna Stopp to score Aaliyah Gutierrez from third base.
The Grizzlies added one more run in the fourth inning to lead 7-1, and the Lady Saints went scoreless in the final three innings to fall in game one.
Gutierrez started in the circle for Seward County and picked up the loss, allowing two hits, two runs, and two earned runs. NaTalia Sewell came in for relief and allowed one earned run, five runs, and six hits.
Game 2
Butler jumped out to a 6-0 lead after scoring all their runs in the top of the second inning, but Seward County responded with an Ashanti Thompson double that scored Marisela Landa. The Grizzlies added to their lead with two runs in the third and added three runs in the fourth to lead 11-1. Taylor Grubbs singled up the middle to score Avery Ragsdale from third base in the bottom of the fourth.
In the top of the fifth inning, Butler added to their lead, scoring two runs to lead Seward County 13-2. Gutierrez scored off an error by Butler's infield, and the bases were loaded for Lana Pigeon. With two outs, all of the base runners took off, and after a dropped fly ball, the Lady Saints scored Stopp from third base and Ragsdale from second base. The Lady Saints fell 13-5 in the run rule in the fifth inning.
Seward County will travel to Barton on Wednesday to take on the Cougars at 1 p.m. and 3 p.m. CT.