Bulldogs Wait for Late Night Snack
KSCB News - July 16, 2011 7:42 am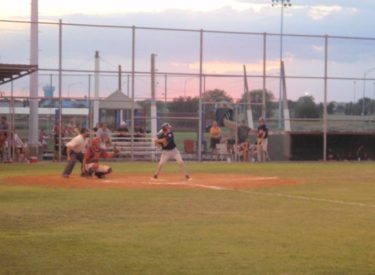 The Liberal Bulldogs waited to take a bite out of Wellington at the Senior Babe Ruth Baseball Tournament Friday night at the Liberal Baseball Complex. Trailing 3-0 for most of the game, the Bulldogs scored one in the fifth and four in the sixth to win 5-3. Bryan Morris laced a two-RBI double to left-center to make it 5-3. The game ended in a bizarre fashion. Wellington loaded the bases with two outs but a ground ball hit the baserunner to end the game. Travis Leverett pitched all seven innings for the win striking out five and allowing seven hits.
The sixth inning began with a Jose Pando double to left-center. But when he tried to stretch it to a triple he was thrown out. But Liberal still came back to score four runs.
Freddy Gomez was named the MVP with a 2-4 game and an RBI. Pando was 3-3.
Liberal (20-7) faces Coffeyville after their 15-8 win over Junction City.
In the afternoon games, Columbus beat Salina 14-4 in six innings and Lakin won 11-1 over Haysville in six innings.
Today's Schedule
9 a.m. Salina vs. Haysville
11 a.m. Wellington vs. Junction City
1 p.m. Columbus vs. Lakin
4 p.m. Liberal vs. Coffeyville
6 p.m. Wellington-Junction City winner vs. Columbus-Lakin loser
8 p.m. Salina-Haysville winner vs. Liberal-Coffeyville loser