Bulldogs Too Much for Redskins
Brock Kappelmann - February 1, 2023 7:19 am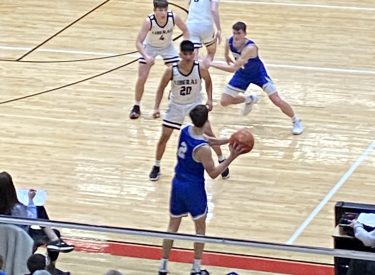 The Hooker Bulldogs came to the Big House in the Liberal and defeated the Liberal Redskins 55-43 Tuesday night.  The Redskins drop their 10th straight game and Hooker defeats Liberal for a third straight time.  LHS was 2-20 from three point range and shot 27 percent from the field in the loss.
The Skins came out ready to play and jumped out to an 8-0 lead.  Hooker used a 13-2 run to  lead 13-10 and led 13-12 after three.  The Bulldogs led 23-21 at halftime.  Hooker built a 36-25 lead with 2:09 to play in the third.  The Dogs led the Skins 38-32 after three.  Hooker led by as many as 14 at 55-41.
Liberal was 2-20 from three point range and 7-8 from the foul line.   Hooker was 2-9 from three and 13-17 at the foul line.  The Redskins shot 27 percent from the field and Hooker shot 33 percent.
Nate Hidalgo led the Bulldogs with 16 points and Kleat Martens had 12.  For the Redskins, Zayden Martinez had 13 points and 10 rebounds.  Brooks Kappelmann had 10 points and seven rebounds with three steals.  Izzy Rotolo had nine points and eight rebounds.  James Fieser scored nine.
Liberal falls to 2-11 and Hooker is 15-5.  Liberal plays at Great Bend Friday night at about 7:45 on 1270 and 92.3.  Hooker hosts Forgan Friday.