Bulls Top Bee Jays in 11 Innings
Brock Kappelmann - July 25, 2016 7:12 am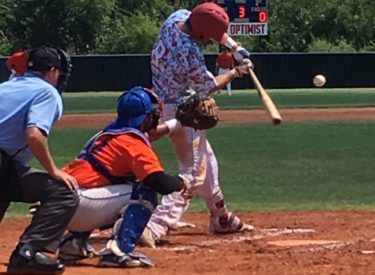 Cale O'Donnell (photo by Brady Kappelmann)
This has happened before.  When Bethany came to Liberal June 24, 25, and 26 the Bee Jays won the first two and lost the last game in 12 innings.  This weekend in Oklahoma City, the Bee Jays won Friday and Saturday but lost 4-3 in 11 Sunday afternoon at Dolese Park.  The BJ's lost precious ground to first place Hays.  Liberal lost a game they led 3-0.
The Bee Jays scored in the second when Brady Cox doubled and Blake Brewster singled him home.  The Bee Jays had the bases loaded with one out looking for more and hit into a double play.  The BJ's tacked on two morein the fifth thanks to a two RBI triple to right center from Cale O'Donnell.  Bethany scored two runs in the fifth against starter Jake Harrison.  Bethany tied it in the seventh after an unearned run.  The Bee Jays had runners in the ninth, 10th, and 11th but couldn't score.  A double play ended the ninth while Liberal wasted lead off singles in the 10th and 11th.
Jake Harrison pitched seven strong innings allowing two earned runs.  Derek Craft was solid going 3 and 1/3 without a walk but allowed an unearned winning run after a BJ error in the 11th.
Liberal is 11-7 and Bethany is 4-14.  The Bee Jays fall into a third place tie with Dodge City and trail second place El Dorado (11-6) by a half game.  Liberal hosts the El Dorado Broncos Monday night at 7 at Brent Gould Field with the Dugout Show at 6:45 on 1270 and kscbnews.net.  Sandcreek Pipeline and Rapid Fit are the buyout sponsors.