Building Fire – 901 E. 2nd St.
Joe Denoyer - November 15, 2021 6:45 pm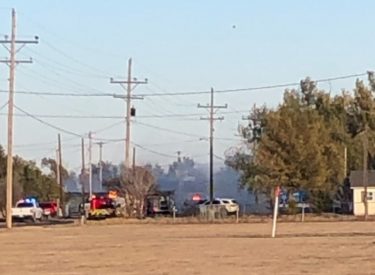 At 4:26 pm Friday the Liberal Fire Department was dispatched to 901 E. 2nd St for a report of a mobile home fire.  While units were enroute the communications center reported that an officer on scene stated the fire was in a shed West of the home.
The first arriving engine found approximately a 15' X 30' building fully engulfed.  A defensive attack was initiated and the fire was knocked down and declared under control at 4:50 pm.  The fire was contained to the building of origin; however, the building and contents were a total loss.
Firefighters were also alerted to the possibility of an occupant in the building.  After a thorough search of the building it was determined that the individual was accounted for and had not been present at the time of the fire.
The fire investigation is ongoing and the cause remains undetermined at this time.  All units were returned to service at 8:02 pm.
Liberal Fire responded with a total of 11 personnel, two engines and four support and chief officer vehicles.  Agencies also assisting at the scene were the Liberal Police Department, Seward County EMS, Southern Pioneer Electric, Black Hills Energy & Liberal Water Department.