Buffaloes Batter Banged Up Redskins
Brock Kappelmann - October 2, 2021 7:40 am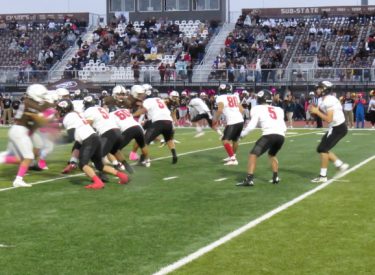 The Garden City Buffaloes took advantage of Liberal's injury related deficiencies to run over the visiting Redskins 49-0 in the rain Friday night at Buffalo Stadium.  It's Liberal's worst loss in the series since a 67-7 loss in 1921.  Liberal is playing with at least three key linebackers who were injured (Easton Zapien, Logan Miller, and Ivan Moreno).  And outside linebacker Hunter Huskey didn't play in the second half due to injury.  Liberal moved one of their defensive backs to play linebacker.  Garden City took advantage to the tune of 433 rushing yards.
Garden City's Zach Keosengphet found the middle of the LHS defense to his liking with a 27 yard score at the 5:35 mark.  It was 7-0 Garden after one quarter.  A Keosengphet one yard plunge gave the Buffaloes a score despite four penalties on the drive.  The Redskins made a 4th and 2 stop on a drive.  Liberal found success through the air late in the first half.  Liberal completed a pass which was taken toward the endzone for a possible score but was fumbled out the side of the end zone for a touch back.  The score would have made it 13-6.  But instead, Garden scored a few plays later on a 66 yard dash by Emmanuel Charite.  It was 21-0 Garden at the half.  Liberal was not competitive in the second half.  The Buffs out paced the Skins 21-0 in the third quarter.  Garden City's Caleb Wiese scored on a seven yard run at the 10:17 mark, Zane Burns scored on a 76 yard run at the 5:43 mark, Allen Chairez scored on a 27 yard run, and Ryan Pilosoff scored on a five yard run.
Liberal lost two fumbles and Garden City did not turn the ball over.  Liberal passed for a season high 162 yards.  Liberal was held to 83 yards rushing.
Liberal is 2-3 and 0-3 in the WAC.  Garden City is 4-1 and 2-0 in the WAC.  Liberal hosts Great Bend Friday night at 7 at Redskin Field with Redskin Pre-game at 6 on 1270, 92.3 FM , and kscbnews.net.  It's the homecoming game.  It's also Golden Plains Credit Union black out night.  Get a 5 dollar ticket from Golden Plains Credit Union or the LHS athletics office and you will be admitted to the game for free.