Brungardt Wins Yucca Ridge Open
Brock Kappelmann - August 30, 2017 7:14 am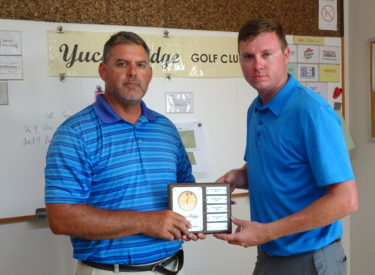 Yucca Ridge Announces OPEN Winner
The 12th annual Yucca Ridge 'Open' Championship was held this past weekend at the Yucca Ridge Golf Club. Superintendent noted, 'With temperatures in the mid 80s Saturday to upper 80s Sunday and just with enough breeze to keep players cooled off it made for a nice turnout and a great golf weekend.'
For the first round Saturday, players played in their own groups with tee times from 10-1 pm. Defending champion, Tyler Brungardt, had the low round with a 77. Kyle Weber finished one stroke off the lead with a 78. On Sunday, players were grouped in tee times according to score.
Ron Prentice finished the tournament in fifth place and Kolt Hayes finished in fourth place. Tied for third shooting 180 was Andy Lovato of Liberal, and Johnny Obholz, Wichita. Kyle Weber, of Liberal, finished the tournament in second place with a two-day score of 161. And, for the sixth year, out of seven Tyler Brungardt, of Oklahoma City, defended his title as the 2017 Yucca Ridge 'Open' Champion! Tyler played well on day two shooting a 3 over par 73 and had a two day score of 150.
Congratulations to Tyler. He will get his name on the plaque that hang's on the "winner's wall" at the shop for the sixth time.
Yucca Ridge is a links style public access golf course located 4 ½ miles north of Liberal off of US Hwy 83. To sign up for the tournament or for questions about golf you can call Kitch at 482-0243, or call the office at 624-GOLF.