Brownback Sworn In As Kansas Governor
KSCB News - January 10, 2011 1:25 pm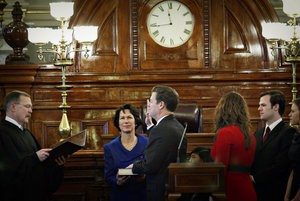 Sam Brownback has been sworn in as Kansas' governor, assuming
office with the state facing a big budget shortfall.
He took the oath of office Monday in the Kansas House chamber.
The ceremony was forced by a winter storm that dumped several
inches of snow overnight.
The 54-year-old Republican gave up a seat in the U.S. Senate to
become the state's 46th governor. He served as Kansas agriculture
secretary before running successfully for Congress in 1994, and he
won his Senate seat two years later. He's had strong ties to
abortion and gay marriage opponents, but he stressed economic
issues in his bid for governor.
He and the GOP-controlled Kansas Legislature must close a
projected $550 million budget shortfall for the fiscal year
beginning July 1.