Brownback Names Two Key Cabinet Appointments
KSCB News - January 4, 2011 8:17 am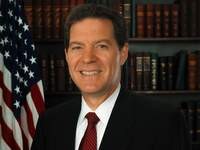 Kansas Gov.-elect Sam Brownback has given
key Cabinet jobs to a western Kansas doctor and a Florida official.
Brownback announced Monday that Greeley County physician Robert
Moser (MOH'-shoor) will become secretary of health and environment.
Moser is also director of rural health and outreach for the
University of Kansas School of Medicine in Wichita.
Brownback also appointed Robert Siedlecki (SYD'-leh-kee) as the
new secretary of social and rehabilitation services.
Siedlecki is currently chief of staff for the Florida Department
of Health. He worked in the U.S. Department of Health and Human
Services during the administration of President George W. Bush.
The appointments are subject to state Senate confirmation.
Brownback, a Republican, takes office Jan. 10.