Brownback Names Campaign Co-Chairs
KSCB News - June 19, 2009 12:00 am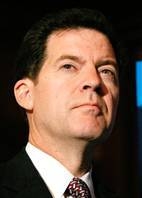 U.S. Sam Brownback has named Sen. Bob Dole and Sen. Pat Roberts as his national campaign co-chairs for his 2010 run for governor.
Brownback is retiring from the Senate and is the only GOP candidate for the job after Secretary of State Ron Thornburgh dropped out Monday. Gov. Mark Parkinson, a Democrat, says he won't run for election.
Brownback said his campaign in the 1st, 2nd and 4th congressional districts will be chaired by the incumbent Republicans. In the 3rd District, the campaign will be headed by former GOP state Sen. Nick Jordan.
Earlier, Brownback named Wichita City Council member Sue Schlapp and Overland Park attorney John Petersen to lead his statewide campaign effort.