Brownback Launches Transition Team Website
KSCB News - November 8, 2010 12:00 am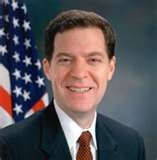 Kansas Gov.-elect Sam Brownback has launched
a website for his transition team.
The new site is www.brownbacktransition.com.
Brownback spokeswoman Sherriene (shuh-REEN') Jones-Sontag says
the website will help Kansans keep up with the work of the
transition team.
She says it also gives the public a place to submit ideas for
improving state government, and to find out about applying for jobs
in the new Republican administration.
Brownback takes office Jan. 10, succeeding Democratic Gov. Mark
Parkinson.