Brooks Lands KJCCC's Top Honor of the Week
KSCB News - January 22, 2013 4:47 pm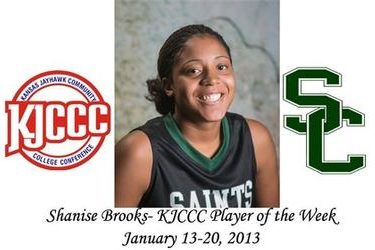 Since coming back from a first semester injury that cost
her 13 games, there hasn't been a more dominating player in the Jayhawk
Conference than Seward County freshman Shanise Brooks. In her first
five conference games of her career, Brooks has averaged 10 points and
10 rebounds per game, putting up double figures in one or the other in
every game. Tuesday, the Topeka native was rewarded for her work as she
was named the Jayhawk Conference Player of the Week in a conference
release. In a light week for the Lady Saints with their first half bye,
Brooks came out on a mission in Seward's only contest. Brooks scored a
career high 23 points and pulled down 8 rebounds leading the Lady Saints
to a 73-57 win over Dodge City Saturday night. She is the second Lady
Saint to win the award this season after sophomore guard Ricquia Jones
took home the honors on the opening week of the 2012-2013 season.
Roy Allen