Brooks Kappelmann is WAC Player of the Year
Brock Kappelmann - May 31, 2023 6:35 am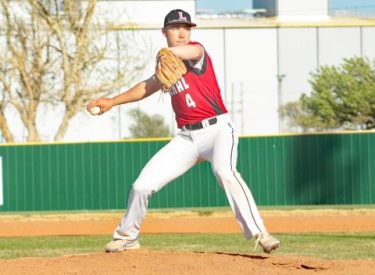 Brett Marshall
Liberal's Kappelmann helps youthful team in 2023
Brooks Kappelmann credits his coaches and his own ability to listen to them for his breakout season for the Redskins in a spring that saw his squad lose several heartbreakers.
The Redskins finished the overall spring with a 10-11 record and went 3-5 in the WAC, but the right-handed pitcher was good enough on the mound and at the plate to impress the league's coaches when they voted him the 2023 WAC Player of the Year.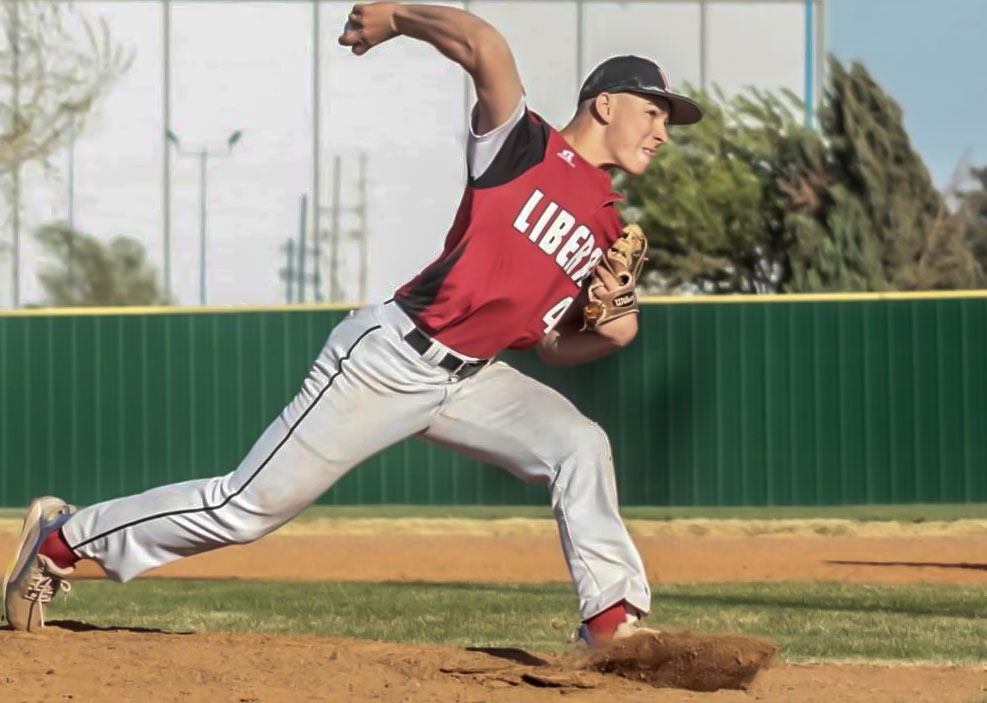 "It's a great honor and it's been great to play with my teammates," Kappelmann said. "There's a lot of other great players in the league, so I'm humbled to win this."
Kappelmann's pitching marks have to be evaluated closely to appreciate how good he was this season.
Despite a 4-4 won-loss record, Kappelmann pitched 51.1 innings, and more impressively compiled a 1.09 earned-run-average. He recorded 82 strikeouts while walking just 18. He added one save and yielded just 8 earned runs. His 82 strikeouts is believed to be a school record.
"I just listened to my coaches and worked on the mental side of the game," Kappelmann said. "I just grew more and felt more comfortable and confident when I was pitching."
Kappelmann said he improved his curveball but wants to fine tune his change-up heading into his senior season in 2024. He said his highlight game was a 7-2 victory over Dodge City when he went 6.2 innings before yielding the two runs.
When not pitching, Kappelmann was occupying the strategic shortstop position and also making life miserable for opposing pitchers.
"I think I was working hard to be a good leader on the field," Kappelmann said. "We had a young team and we made some mistakes throughout games. We lost some really tough games and we learned a lot and I think we will be much better next year for that reason."
Two losses to Hays were by one and two runs; they had a one-run loss to Wichita North; a pair of one-run setbacks to Russell/Victoria and a two run loss to Dodge City were all games in which the Redskins had opportunities to win.
One of the best wins for the Redskins came on May 1 when they defeated Class 2A powerhouse Elkhart, 4-2. It was Elkhart's first loss of the year and that Wildcat team finished third in the Class 2-1A state tournament last week.
He batted .394 while getting 26 hits in 66 at-bats. He had 20 RBIs and 20 runs scored. Nine of his 26 hits went for extra bases and he had an on-base percentage of .506.
"I think I was able to hit the ball harder this year and found some gaps," Kappelman said. "I got more power into the alleys.
Joining Kappelmann on the WAC first-team was teammate Aidan Schwindt; Hays' Cooper Sanders and Carson Spray; Garden City's Hayden Bailey; Dodge City's Arec Mendoza; and Great Bend's Carson Umphres, Tyler Stuhlsatz, and Koehn Ribordy. Hays' Dreher was voted Coach of the Year.

2023 WAC All-Conference Baseball
First Team Selections
| | PLAYER | YEAR | POSITION | SCHOOL |
| --- | --- | --- | --- | --- |
| 1 | J. Brooks Kappelmann | 11 | P/SS | Liberal |
| 2 | Carson Umphres | 10 | P/OF | Great Bend |
| 3 | Cooper Sanders | 11 | SS | Hays |
| 4 | Arec Mendoza | 11 | P/SS | Dodge City |
| 5 | Hayden Bailey | 12 | OF | Garden City |
| 6 | Tyler Stuhlsatz | 12 | IF/OF/P | Great Bend |
| 7 | Aidan Schwindt | 11 | C/SS | Liberal |
| 8 | Carson Spray | 12 | P/3B | Hays |
| 9 | Koehn Ribordy | 9 | OF/P | Great Bend |
Player of the Year: J. Brooks Kappelmann, Liberal
Coach of the Year: Dustin Dreher, Hays
Second Team Selections
| | PLAYER | YEAR | POSITION | SCHOOL |
| --- | --- | --- | --- | --- |
| 1 | Zayden Martinez | 11 | P/OF | Liberal |
| 2 | Austin Elam | 12 | C/1B | Garden City |
| 3 | Manny Rodriguez | 12 | 3B | Dodge City |
| 4 | Ian Premer | 9 | 1B | Great Bend |
| 5 | Luis Varela | 12 | 3B/P | Garden City |
| 6 | Bradyn Dreher | 12 | 1B | Hays |
| 7 | Sage Riekenberg | 12 | C | Dodge City |
| 8 | Alex Schwindt | 10 | C/OF | Liberal |
| 9 | Edwin Chavez | 12 | 2B/P | Great Bend |