Liberal QB, Hays LB voted POY for 2023
Brett Marshall
The top two teams in the Western Athletic Conference produced the top two players as voted upon by the conference's five coaches.
This year, those honorees are senior quarterback Brooks Kappelmann of Liberal and junior linebacker Dalton Meyers of Hays.
Their teams each went 3-1 in the WAC race, but Hays' 48-41 double-overtime victory was the tiebreaker to establish the conference team champion.
Kappelmann was a three-year starter for the Redskins and played an integral role in the turnaround for the Redskins that saw them finish 8-2 after seasons of 4-5 and 3-6 in his sophomore and junior seasons.
Meyers, meanwhile, was in his second season starting on defense and helped the Indians play through a brutally tough schedule to finish the season on top of the WAC.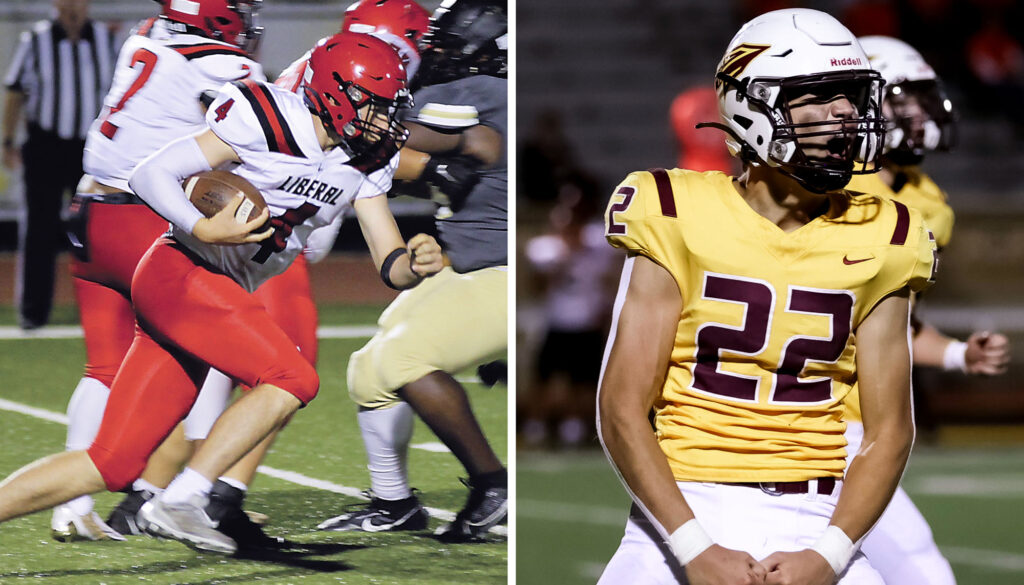 Brooks Kappelmann/Liberal/6-3, 205-pound/QB/Sr.
Kappelmann is no stranger to earning recognition in the WAC. He was voted the conference's baseball player of the year in the spring of 2023 while pitching and playing in the field.
His senior season will go done as one of the best in the school's rich history.
Kappelmann, who is 6-3, 205-pounds, rushed for 785 yards and scored 11 touchdowns rushing while using his powerful arm, completed 142-of-232 passes for 2,351 yards, throwing for 25 touchdowns and just five interceptions. His completion percentage of 61.2 percent topped all WAC quarterbacks.
But he proved to be a dual threat, rushing for 785 yards and 10 TDs, totaling 3,136 yards of offense.
"It's an amazing honor because there's so many good players in our league," said Kappelmann. "All credit goes to my teammates and coaches, and I just try to do my part."
Kappelmann said it was satisfying to be part of the program's turnaround under Bryan Luetters.
"It was an amazing transformation with the new coach who came in and changed the culture," Kappelmann said. "Our class wanted to do better, and the coaches wanted the same. Everybody just did the extra stuff. It's kind of like doing every single rep because they all matter. You never want to cheat yourself, your teammates or your coaches."
Kappelmann said there are some physical similarities in throwing the football and pitching the baseball, with each helping the other.
"You lead with your legs and the core of your body and let your arm follow," Kappelmann said in describing the two forms. "I think the biggest thing we did, too, was watching a ton of film, studying different coverages and then making the plays that we felt would work."
Kappelmann's favorite target was wide receiver Zayden Martinez, who hauled in 53 catches for 1,149 yards and 14 touchdowns.
"He's one of those special kids," Luetters said of Kappelmann. "He doesn't party. He doesn't cuss. He's a 4.0 GPA student. He's the ideal player to coach."
Dalton Meyers/Hays High/6-2, 190-pounds/Jr./Outside Linebacker
On the defensive side, it was Meyers, a 6-2, 190-pound junior, who drew the attention of most of the WAC opposing coaches. He finished the season with 76 tackles, 3 sacks and 15 tackles for losses. The latter category was tops in the WAC.
"I was shocked and excited," Meyers said of getting notification from his head coach, Tony Crough. "I knew when the season started that I had to give it my best shot, because all the other teams were coming for us after winning the s to WAC last year."
Meyers' principal duties at outside linebacker (nickel position) is to be responsible for coverage of the slot receiver and then the running backs getting to the edge.
"My job is to make sure they don't get to the outside and cut upfield," Meyers said.
The HHS standout said there were multiple exciting games this season, including the early OT win over Great Bend, and then being able to come up with the big win late in the year to defeat Liberal and win the WAC team championship.
"I think we just got better as a team through the season," Meyers said. "The Garden City game is one of those teams every year you know it's going to be tough. When we beat Liberal, the defense came up big at the end. I think the Liberal game was just 100 percent fun."
Meyers said he also has played some strong safety for the Indians, which he did in his sophomore season, but made the switch back to linebacker this year.
"I knew I had to work hard and get in the weight room to get stronger," Meyers said. "Last year nearly every starter was a senior, so we had to replace a bunch of positions. Trust is a big thing in football with 11 players on the field. If they don't do their job, it's difficult for you to do yours. And if you don't do yours, it's tough on your teammates."
Meyers credits Crough and the assistant coaches for pushing the players to succeed.
"They came here to win, and we take everything they say and try to do our best," Meyers said.