Brooks Bomb Helps BJ's Drop Dodge
KSCB News - July 4, 2015 7:00 am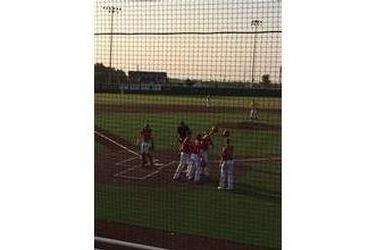 Liberal's bats came back to life after a four night lay off in a 9-5 win at Dodge City Friday night. Nick Brooks provided a three run blast and was 3-5 with a homer, double, and three RBI's and Brent Williams was 3-5 with a two RBI's.
The Bee Jays scored three in the second thanks to four consecutive singles and an RBI single from Nick Chapman before Jared Huber and Luke Sherley walked with the bases loaded. Brooks three run bomb to left center in the third gave the BJ's a 6-0 lead. Dodge City scored five in the third against starter Matt Michalski who lasted 2.2 innings. But Thomas Garland picked up the BJ's by pitching 5.1 scoreless innings with four strikeouts and no walks. Liberal added a run in the sixth to lead 7-5 when Williams ripped a clutch RBI double off the wall in right center. Luke Sherley doubled to lead off the eighth and Williams infield single scored him. Brooks doubled to left in the ninth and Huber smacked a single up the middle to make it 9-5. Brad Vassar pitched a scoreless ninth.
Liberal is 20-8 and 16-6 in the Jayhawk League while Dodge City is 14-12 and 10-12. The Bee Jays have won five straight league road games and eight of the last nine league games. But El Dorado is still gaining ground with two double header sweeps this week. The Bee Jays host the A's for the 4th of July with a double header at 6 on 1270 and kscbnews.net. City of Liberal, Community Bank, and Pizza Hut are the buyout sponsors. The fireworks will follow the game. First Southern Baptist Church puts on a free picnic from 2-5:30.
Friday's Scores
El Dorado 2 Hays 1
El Dorado 5 Hays 1
Wellington 7 Bethany 2
Haysville 5 Derby
Standings
Jayhawk League North
Liberal 16-6
El Dorado 14-8
Hays 11-12
Dodge City 10-12
South
Haysville 14-9
Wellington 13-9
Derby 8-15
Bethany 4-19