Broncos Takes Series from Slumping BJ's
KSCB News - June 16, 2014 6:40 am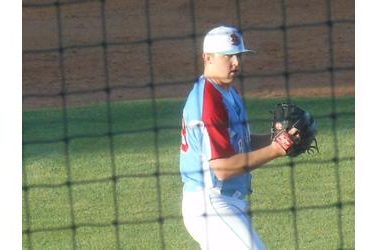 Liberal again built a big lead but couldn't hold it Sunday night. One day after leading 11-6 but losing 14-13, Liberal led El Dorado 5-1 but lost 7-6 Sunday night at Brent Gould Field. The Bee Jays have lost three of their last four.
Liberal jumped on El Dorado for a four run first when Brady Cox laced a double down the right field line to score two runs. Zach Hoffman doubled home a run and Brennan Johnson singled to center but the ball was mishandled allowing another run to score. The BJ's had two on base with no outs but did not score again. The Bee Jays loaded the bases with no outs but only scored one run to lead 5-1. The Broncos scored two in the third against starter Travis Orwig. El Dorado added a run in the fifth and a run in the sixth to tie the game. They bolted to a two run lead in the sixth when Zack Fields lined a two run homer to left off Tyler Wiedenfeld. The Bee Jays drew closer in the seventh when Seth Stevens doubled home a run. But the BJ's were retired in order in the final two innings.
Alec Isaac was 3-5 with three runs scored in the loss. The Bee Jays used five pitchers and only Ryan Scott had a scoreless outing when he worked a scoreless ninth.
Liberal is 7-6 overall and 3-6 in the Jayhawk and El Dorado is 6-5 overall and 3-5 in the Jayhawk. Liberal falls to fifth in the Jayhawk.
Liberal hosts Hays Tuesday and Wednesday at Brent Gould Field. OB GYN and Associates is the buyout sponsor for Tuesday night and the game airs on 1270 and kscbnews.net.
Wellington beat Hays 10-4 and Derby won at Dodge City 9-2.
Standings
Wellington 8-0
Derby 6-4
Hays 6-4
El Dorado 3-5
Liberal 3-6
Dodge City 1-8