Broncos Break Out Brooms on BJ's
KSCB News - June 17, 2013 3:33 pm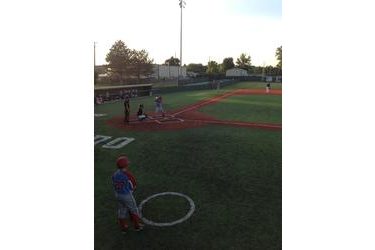 Early it looked like this would be the night. The Liberal Bee Jays built an early 5-2 lead only to see El Dorado rally to beat Liberal 10-9 Sunday night at McDonald Stadium in El Dorado. The Broncos swept the Jays in the three game series.
Liberal scored a run in the first when Grayson's Zach Reding singled home Cisco's Alec Isaac. But the Broncos scored two in the first after BJ starter Justin Dellinger walked three but did not surrender a hit in the first. Liberal scored an unearned run in the second and plated three in the third. Cowley's Dylan Delso doubled home a run and scored on a wild pitch. Nicholls State's Cody Tillotson drove home a run to make it 5-2.
El Dorado scored four in the third on four hits and two walks to lead 6-5. The Broncos plated three runs on five hits in the fourth to lead 9-5. Tillotson's sacrifice fly scored Reding in the fifth to make it 9-6.
The Bee Jays scored three in the seventh to tie it. Yavapai's Austin Murphy whistled a line drive double into left center to make it 9-8. Wichita State's Tanner Kirk grounded out to drive home the tying run.
The BJ's walked home the winning run in the bottom of the ninth to lose 10-9.
Liberal is 8-6 overall and 4-6 in the Jayhawk while El Dorado is 8-4 overall and 6-4 in the Jayhawk.
the Bee Jays play at 9-1 league leading Hays Tuesday and Wednesday nights at 7 on Talkradio 1270 and kscbnews.net.