Broncbusters Bury Saints
KSCB News - January 26, 2012 7:30 am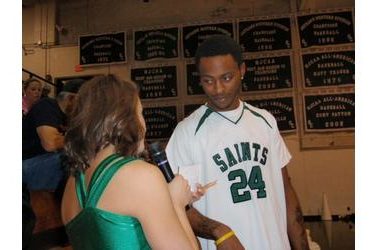 The rivalry feels like it is back. The Saints draw as well as anyone in the Jayhawk Conference for home games. But with Garden City in town and bringing a lot of people to Liberal, and KU coach Bill Self in attendance, the Green House was electric. Unfortunately for the home fans, only Garden City's Broncbusters matched that intensity as the Busters led wire to wire in an 81-74 upset win Wednesday night in the Green House.
The Broncbusters got 29 points and seven rebounds (10-18 shooting but 10 turnovers) from KU recruit Geron Johnson.
The Busters shot 57 percent for the game and 61 percent in the second half. Garden led by as many at 18.
Irvin Hollinger and Brice Jenkins scored 14 a piece. Edson Avila and Deverell Biggs scored 12 a piece. Trey Starks scored 11 including an electrifying dunk. Corieon Pearson added 10.
The Saints see a 10 game winning streak go by the boards and lose for the first time since December 2 at home to the Colorado Kings.
The Busters played like a desparate team after losing four of their last five entering the game. The Busters are 15-6 overall and 3-4 in the conference while Seward is 17-3 and still in first at 5-1 after Colby (5-2) lost at home to Barton.
The Saints will be featured during Thursday night's Green Line at 6 p.m. on Talkradio 1270 and kscbnews.net.
The Saints play at Butler Saturday night at 7:30 on B107.5 and kscbnews.net.
Wed. Jan. 25
Neosho County def Highland 95-84*
Kansas City KS def Independence 96-82*
Labette def Johnson County 69-57*
Garden City def #9 Seward County 81-74*
Hutchinson def Pratt 89-67*
Cloud County def Butler 75-60*
Cowley def Allen 83-54*
#10 Barton def Colby 88-65*
#2 Coffeyville def Fort Scott 117-59*