Brewer's Grand Slam Sends Bee Jays on their Way to Win
Brock Kappelmann - June 17, 2020 6:45 am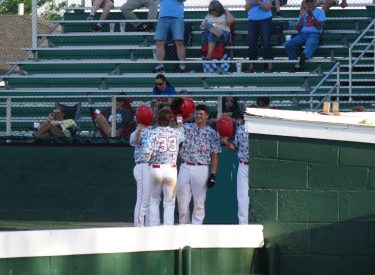 It was a no doubter.  BJ catcher Kade Brewer hit a tower grand slam to left as the Liberal Bee Jays were on their way to a two game sweep of the Oklahoma Mudcats 14-3 Tuesday night at Brent Gould Field.
The BJ's scored four in the first.  They have scored 16 runs in the past three first innings.  Caeden Trenkle doubled to lead off the first and Jack Malone grounded to short to drive him home.  Kade Brewer singled home a run.  Aiden Shepardson doubled and Nate White singled him home.  In the second, the BJ's scored seven.  Malone doubled home a run.  Liberal scored a run on a wild pitch to make it 6-0.  Brewer's grand slam to left made it 10-0.  Shepardson and White followed that up with singles and AJ Folds singled home a run to make it 11-0 after two.  The Mudcats chased home three fifth inning runs as the BJ's committed two errors.  The BJ's added an unearned run in the fifth.  Folds tripled down the left field line in the sixth and would score one of the BJ's two runs.  The Mudcats had two errors in that game.
Liberal out hit the Mudcats 12-3.
Brewer was 3-4 with five RBI's.  Folds was 3-4.  On the mound, Garrett Bonnett worked three scoreless innings.  Tyler Hankins pitched two scoreless with five strikeouts and no walks.
Liberal is 4-1 and the Mudcats are 14-14.