Bret Lyon Makes State Golf
Brock Kappelmann - October 10, 2023 6:45 am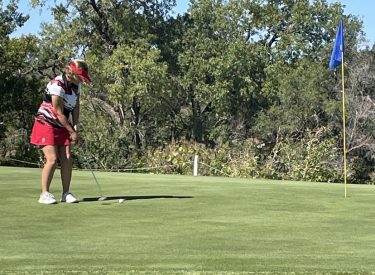 Bert Luallen
Wichita — Senior Bret Lyon achieved the goal she set out to accomplish for her Senior season by qualifying for the KSHSAA 6A State Girls Golf Tournament in Emporia. Lyon and her two teammates, Aaliah Osborn and Leini Tian, took to the links at Arthur B. Sims Park in Wichita in the Wichita North sponsored 6A Regional under near-perfect weather conditions on Monday.
At each of the three Regional tournaments, the top four teams qualified for state, plus the next six best scores not represented by players from those four teams. Lyon claimed the sixth spot with a 106, edging out one of the two players in her group on Monday, Olivia Sanchez, a Freshman from Wichita East, who carded a 107.
"I knew going into the final two holes that Bret had a good chance of making the cut," Coach Bert Luallen said. But after a three-put on the 17th hole and an errant tee shot on 18, that looked in doubt. But Lyon was able to bring it home on the final hole to accomplish her season-long goal.
"This one was special," said Luallen. "Bret improved so much over last season and she earned this. It was great to see her pull it out. I'm really proud of her."
Lyon will travel to Emporia next Monday for the KSHSAA 6A State Tournament; a course where she recorded her career best round earlier this season. It is a two-day event, where she will need to qualify to stay for the second day. "It will take a monumental effort for her to do that," Luallen said. "But you never know in golf what will happen."
TEAM RESULTS:
1.  Maize            322
2.  Garden City   369
3.  Wichita SE    392
4.  Dodge City    401
5.  Derby            410
6.  Campus         447
7.  Wichita-East  452
8.  Wichita-North 514
Liberal High School did not have the requisite four players in order to post a team score, so their players had to play as individuals.
INDIVIDUAL RESULTS:
(The top 10 players earned medals)
1.  Kinslea Jones              Maize           69 (-2)
2.  Alina Lam                     Wichita-SE   72 (+1)
3.  Alexis Elliot                   Maize           77 (+6)
4.  Kiley Maier                    Campus       83  *
5.  Charlotte Kerbs             Maize           T83
6.  Hannah Minnis              Derby           85  *
7.  Ailynn Anderson            Garden City  89
8.  Hailey Moore                Wichita-SE    T89
9.  Jerika Lopez                 Garden City   T89
10. Riley Kippes                 Dodge City    90
11. Brooke Savolt              Garden City    92
12. Emma Hays                 Maize             93
13. Jillian Hutchinson        Wichita-East   97  *
14. Jacya Vargas               Garden City    99
15. Payton Dunn                Dodge City     T99
16. Addison Oetken           Derby              100  *
17. Rachel Harrold            Dodge City       103
18. Hadley Topping            Maize               104
19. Natalie Wilson              Derby               105  *
20. Natalie Unsworth         Garden City     106
21. Bret Lyon                      Liberal              T106  *
38. Leini Tian                      Liberal               130
46. Aaliah Osborn               Liberal               146