Brennyn Seagler Joins Oklahoma Baptist Staff
Brock Kappelmann - June 3, 2020 7:13 am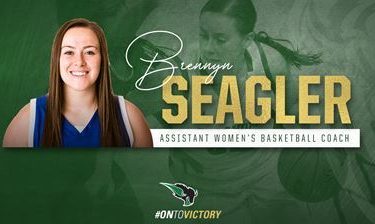 OBU Press Release
SHAWNEE – Head Coach Bo Overton announced the hiring of former Oklahoma City standout Brennyn Seagler as Assistant Coach of the Oklahoma Baptist women's basketball program on Monday afternoon.
Seagler closes a two-year stint with the Stars before spending two seasons at Seward Community College. In her four year collegiate career, Seagler amassed a remarkable 126-14 record as a player.
"I am so excited and blessed to join the OBU family," said Seagler. "I give all the glory and honor to God for this amazing opportunity. The values, high standards and history of this university is something I strive towards. I cannot wait to continue to learn from Coach Overton and start this journey with this team and program."
In her final season at OCU, the Stars went 30-2 and shared the SAC regular-season championship. OCU held onto the No. 1 spot in the NAIA rankings for three polls and started off 27-0 as they prepare for the NAIA Tournament before COVID-19 ended their season prematurely..
Seagler won back-to-back SAC Championships in 2019 and 2020 and made it to the NAIA National Championship Game in 2019, finishing runner-up. For her efforts in the NAIA Tournament, Seagler was named to the NAIA All-Tournament Team.
"Brennyn will be an excellent mentor to our players," said Overton. "Whether winning at the high school level, winning championships at the junior college level, or going 63-7 at OCU while winning two conference titles and a national runner-up, Brennyn is a proven winner. I'm very excited to welcome her to OBU."
Seagler spent her first two seasons at Sewart Community College where she led her team to a pair of fifth place finishes in the NJCAA Tournament.
She attended Gruver High School where she was a three-time All-State selection, a four-time All-Region selection, and the district's Most Valuable Player three times.
Seagler joins her former coach at OCU as Overton was named Head Women's Basketball Coach of OBU on March 13, 2020.