Brenneman Funeral Home Under New Ownership
Joe Denoyer - February 9, 2017 4:12 pm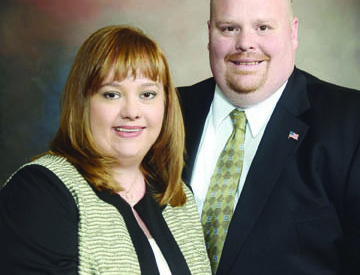 It was almost 17 years ago when Mellissa Brenneman said, "There's been a high regard and respect for this funeral home in all of its history… we don't have to build on that we just have to add to it," when she and her husband Risk Brenneman bought Kitch Funeral Home. That same spirit was recently renewed when Mike and Kelly Hornung recently assumed ownership of Brenneman Funeral Home and Cremation Services to Hornung Family Funeral Home. Although the name of the funeral home will not change immediately, the new owners intend to slowly transition to Hornung-Brenneman Funeral Home.
The Hornungs joined the Liberal community Jan. 6, 2016 when they moved from Denver, Colo. Although they moved from Denver, Kelly Hornung has deep family ties to Liberal.
"This is my mother's home town, Connie Kay Gray," she said. "My grandparents were Herbert and Izetta 'Tommie' Gray who lived in this community for more than 60 years. My Uncle Wayne Gray and Aunt Lidia Hook-Gray are still active members of the community. When I was younger, I spent my summers here with them. I remember grandma working at the Food Bonanza, when the Blue Angels performed at the air show, and all my visits to Dorothy's House. I have always loved Liberal. There is something magical about this town, its traditions, heritage, and values."
A little more than a year ago, Rick reached out to Kelly's dad, Chuck Bowman a fellow funeral director, of whom he was friends looking to add additional staff . He recommended his own son-in law Mike Hornung, who had graduated with honors from Arapahoe Community College Mortuary Arts program.
"My wife brought me to Liberal when we first met," he said. "I have always enjoyed the small town sense of community that Liberal has, so when the opportunity came to become an apprentice under Rick and Mellissa, we knew it was the perfect fit for us."
Mike has been a part of the funeral industry in Colorado since 2009, where he was a part of the management team that oversaw St. Simeon Cemetery and funerals with the Archdiocese of Denver Mortuary.
"Mike's caring nature was evident in the few times when had been around him in the past," Rick Brenneman said. "When we did meet for the job interview, his knowledge, integrity, and professionalism made us want to hire him immediately. We were so pleased when Mike and Kelly called to tell us that they were ready to come to Liberal."
In addition to her duties at the funeral home, Kelly works at the Colvin Adult Learning Center, teaching GED and AOK classes. The Colvin Adult Learning Center is a part of Seward County Community College.
The ownership transition was final on Jan. 31. The new owners are pleased to announce that Richard Harrison, Charlie Maddox, Gerald Mann, Gary Riffe, Kye Peterson, and Arlen Ankle will continue their service to families in the community.
In March, Kelly's mom and dad will be moving home. Kelly's father, Chuck Bowman, will be joining the staff. Chuck has had a 35-year career in funeral service in Colorado. Chuck has also served as the President of the Colorado Funeral Directors Association, and for many years has chaired the State Legislative Committee, acting as a spokesperson for the profession and giving testimony at the State Legislature. Chuck is currently serving this year as Treasurer of the National Funeral Directors Association. He plans to bring his years of service and dedication to the funeral profession to the community in order to maintain the high quality of standards this community has come to expect.
Rick and Mellissa Brenneman will stay in Liberal and assist with the transition until the end of March.
"Just as when we purchased the funeral home from Tom and Betty Kitch, the sale of the funeral home has gone very smooth and God's reassurance in this decision has been evident in so many ways," Rick Brenneman said. "After nearly 30 years in funeral service, with being on call and working an unpredictable schedule, it will be nice to spend more time with our families. We are so grateful to everyone who placed their trust in us to care for their family members. Working directly with Mike over the last year, I am confident that the same level of care and compassion will be carried on."
Kelly said the benefit has gone both ways.
"I think the biggest message Mike and I would like to convey to our community is that we have had the best mentors in Rick and Mellissa that anyone could hope for," she said. "They have befriended us, and words can't express what they mean to our family. We plan to uphold the traditions and values that they have established. Just as they were, we will always be available for families in their time of grief."
Understandably there will be lots of questions in the coming months. The Hornung family will be hosting an open house on March 10 to answer questions, allow the community to get to know them, meet the staff, and take that time to wish the Brennemans the best in their next adventure and thank them for their years of service to the community. Details on the open house will be announced at a later date.
Mike and Kelly would like to reassure those that have chosen Brenneman Funeral Home for their pre-arrangements and/or preneeds that all policies remain in effect and will be transferred to the new owners seamlessly. Those with questions can call the funeral home at 624-5647 and attend the open house for more specific questions or concerns.