Brenna Buggs Named Cheer and Dance Coach
Brock Kappelmann - July 18, 2022 9:57 am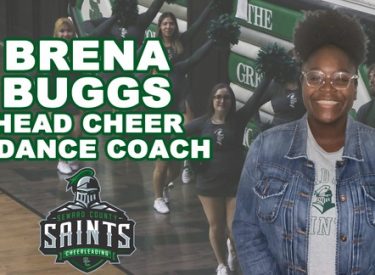 Kenny Hernandez
LIBERAL, Kan. – Seward County Athletic Department welcomes Brena Buggs as the Head Cheer and Dance Coach for the Saints. Buggs provides years of cheer coaching experience and passion for the sport that will cross over to her programs.
Buggs was born and raised in Houston, Texas, and competed in cheer at a young age and competed in her junior and senior year at Jersey Village High School where she was named an All-American her senior year (2015). She graduated from Sam Houston State University with a Kinesiology bachelor's degree (2021) and helped with the little sister big sister program called Royalty while in college. During the program, she mentored young cheerleaders to excel in their local high school cheer programs.
As a freshman in college, Buggs was cut from her cheer team and came out stronger, "Not making the college team did not take away the love of cheer from me." Buggs went on, "The way you look does not make a good cheerleader. Heart and passion for the sport make you a great cheerleader."
After graduation Buggs worked for the Houston Texans as a Battle Red Marketing and Event Ambassador and has been involved with community relations, and gameday preparations. Buggs continues to mentor the youth in Houston as a cheer coach and is excited to reach her goal as a head coach. "Excited my dream to be a head coach came true and I am grateful for this opportunity," Buggs stated.
As the programs get ready to start in August Buggs is ready, "I am excited to meet the girls and to be in a small town that cares for the girls and the college." Buggs also recognizes her support system, "I would like to thank my mom (Tonya), sister (DeeJanae) they are my support system that has been there every step of the way."
The Lady Saints volleyball program will have its first home game on August 31st in the Greenhouse and that will be the start of the Buggs era. The cheer and dance program will look to compete at the Regional Tournament in the spring and will look to punch a ticket to Nationals in Daytona, Florida.