Braxton Hyde Signs at Oral Roberts
Brock Kappelmann - December 20, 2021 1:32 pm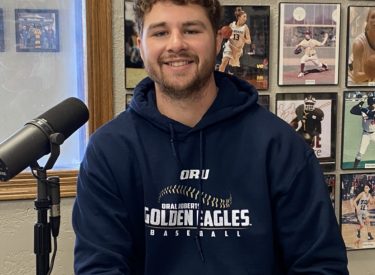 Liberal's Braxton Hyde has signed to be a division 1 baseball player.  The right handed pitcher from Liberal and currently at Butler Community College in El Dorado, made the decision official last month.
Most recently, Hyde pitched for his hometown Liberal Bee Jays in the summer of 2021.  Hyde was 3-1 with a 2.43 ERA with 37 strikeouts and 15 walks for the 29-8 Bee Jays.   In his first season at Butler, Hyde went 5-3 with 45 strikeouts and 14 walks.  Hyde was a standout pitcher at Liberal High School.  Hyde went 5-4 with a 1.86 ERA for the Redskins as a junior in 2019. Hyde struck out 59 and walked 13. As a sophomore, Hyde was 8-1 with a save and a .62 ERA. He had 49 strikeouts and 14 walks. Hyde was 1st team all WAC and helped lead the Redskins to a 16-6 season. As a freshman, Hyde went 2-0 with a save. He had 20 strikeouts. Hyde was second team all WAC as a freshman.
Hyde was a guest on Sportsguys Monday morning.  Interview on SoundCloud at the end of the show.