Brave New World for Beaver
Brock Kappelmann - August 13, 2018 1:03 pm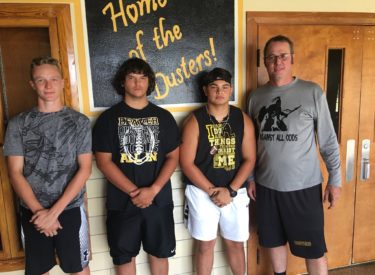 The Beaver Dusters have been through 0-10 and 1-9 seasons the past two years.  And they lose most of their experience from last year's team.  So needless to say, no one is picking the Dusters to soar to the top of the district in 2018.  They do have a new head coach in Titus Burrell.  He was an assistant last year and had been a coach at Fairview for 13 years.  The Dusters return just three starters on both sidesf the ball and have some decent youth moving up into the program.  The Dusters have 18 out for football.
Some of the key Dusters include Sr. WR/QB/S Ramon Martinez from Forgan, Sr. Wr/DB Gabe Harris, Jr. OL/DL /LB Nick Aleman, So. RB/NG Zacc Hugg, and So. OLB/WR Clay Pugh.
Beaver was featured during the Sportsguys on Monday morning.
Schedule
August 24- at Merritt
August 31- Stanton County
September 14- at Booker
September 21- at Okeene
September 28- Oklahoma Bible Academy
October 5- at Hooker
October 12- Texhoma
October 18- at Fairview
October 26- Thomas (102.7 and kscbnews.net)
November 2- at Mooreland